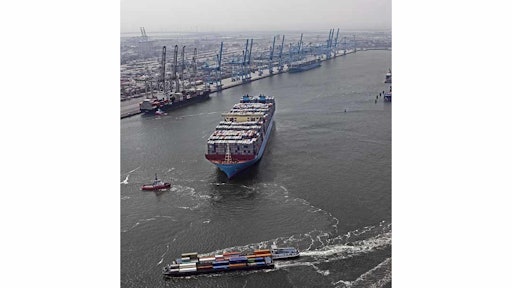 Maersk Line will close down its Trans-Pacific 5 (TP5) U.S.-flag service operated by its Maersk Line Ltd. affiliate in January next year as part of a strategy to eliminate unprofitable Pacific services, according to Hellenic Shipping News.
The end of the current TP5 service from North Asia to Los Angeles-Long Beach and Oakland, Calif. using five older Panamax, U.S.-flagged container ships will not produce a significant reduction in the overall container ship capacity on the route, according to experts, because it is a relatively small service.
The five ships on the route include four 4,300-TEU vessel formerly owned by Sea-Land Service and one ship chartered from Mediterranean Shipping Co. (MSC).
In a notice advising customers of the decision, Maersk Line said the overall trans-Pacific trade and its TP5 service between North China, South Korea and Japan to the West Coast in particular had provided unprofitable results for nine out of the last 10 years.
The world's largest shipping company clarified, however, that the cancellation of the service "by no means suggests our commitment to the trans-Pacific trade has wavered. In fact, we see it as very much the opposite."
To read the entire article, click HERE.