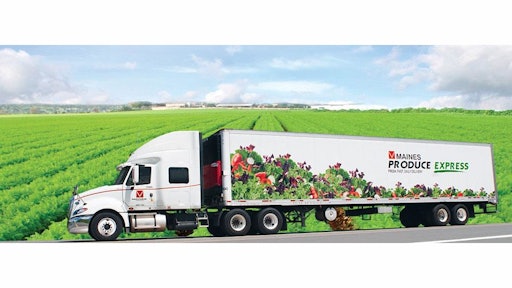 Maines Paper & Food Service Inc. has entered its fourth year partnering with Fleet Advantage, a provider of truck fleet business analytics, equipment financing and lifecycle management. The companies first partnered in 2010 to study the feasibility of a paradigm shift from 6- to 8-year full-service truck leases to the Fleet Advantage EXchangeIT™ operating lease model using 4-year lifecycles combined with contract maintenance. The first 100 new lease tractors were placed in service in the latter part of 2011 and predicted substantial reductions in fuel consumption and maintenance and repair costs. The program is now in its fourth year with 525 tractors under management.
The actual results verify that Maines has substantially reduced its fleet operating costs, which has enabled them to maintain a competitive advantage with their customers. The final validation of the program is a recently signed EXchangeIT™ agreement that replaces the first 100 tractors under the first EXchangeIT™ lease. "We in-serviced 100 2012 model tractors in Q4 of 2011 and are exchanging them even sooner than our preliminary models predicted," said Peter Flynn, senior vice president of Fleet Advantage and Portfolio Manager for Maines. "In 2010 we promised Maines a guarantee of the lowest cost of ownership and we have steadily monitored vehicle performance data and expenses to deliver on that promise."
Maines attributes the decision to exercise EXchangeIT™ in large part to the ever improving fuel economy on new model tractors and their confidence in Fleet Advantage and its product. "We estimate the new models will increase fuel economy by close to 10 percent," said Terry Walsh, chief operating officer of Maines. "EXchangeIT™ also allowed us to include state-of-the-art safety features such as collision avoidance and lane departure warning systems. The new vehicles add value to our stakeholders, to the public at large and to our customers through improved reliability, on-time deliveries, reduced down time, sustainable cost and public safety."
Walsh credits a portion of the increased fuel efficiency to driver acceptance and their comprehensive in-house driver training program that maximizes MPG. Fleet Advantage also designed and sponsored a driver training vehicle equipped with features to safely train up to four drivers simultaneously. Drivers are instructed on the importance and proper use of safety equipment options and how to drive in accordance with preselected engine settings established by Maines and Fleet Advantage to maximize fuel economy.
The 100 off-lease, low-mileage 2012 models surrendered under EXchangeIT™ will be approximately 39 months old. These vehicles will be "down-streamed" to Fleet Advantage's Certified Pre-Owned Lease Program through their remarketing division. The tractors will be leased or sold into the secondary market with full history of per vehicle fuel economy and maintenance and will include two-year extended warranties on major components.