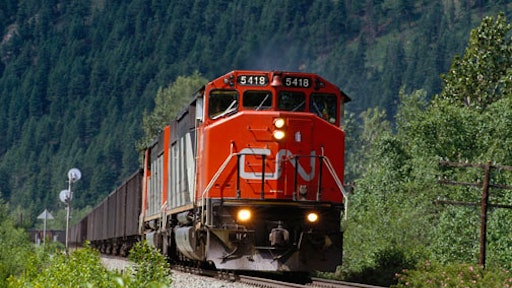 CN announced last month that its transportation of Western Canadian grain in the 2013-2014 crop year has now surpassed its prior historical record and exceeds what it promised the Canadian government in mid-February, a full month before the government's order-in-council took effect requiring railways to move specific volumes.
CN's hopper car deliveries to Western Canadian grain elevators in May are expected to average 5,500 carloads per week -- a full 50 per cent more than the eight-year historical average, and 38 per cent more than the best-May ever.
Claude Mongeau, president and chief executive of CN, said: "I wrote to Agriculture Minister Gerry Ritz in February when emotions started to boil in the midst of the brutal polar vortex that hobbled the operations of all railroads. This was a month before Ottawa's order-in-council was announced, and I promised the minister that CN would move 4,500 carloads of grain per week as soon as extreme cold weather abated, rising to 5,500 cars per week after the Port of Thunder Bay opened for business.
"We have done exactly what we promised, without the need for regulatory intervention. In fact, the strength of our grain transportation performance is unprecedented. With our rapid rebound since March, and our solid performance last fall before winter took a toll on operations, we are on course to break all records for Canadian grain. Crop year-to-date, CN's grain volumes are four per cent better than its previous best and 13 per cent above average performance. And we would have been closer to 10 per cent above our prior record if it hadn't been for grain companies failing to use available rail capacity last August and early September when it was becoming clear that Canadian grain growers would harvest a huge crop."
Mongeau said CN is now aiming to move close to 6,000 hopper cars of grain weekly during this summer with its recently-introduced customer fleet integration plan, and the deployment in Canada of its temporarily surplus fleet of hopper cars used in U.S. service during the next three months.
"Assuming grain elevator companies are capable of consistently unloading this increased volume, these plans should propel us into even greater record territory by the end of the crop-year in early August. With solid supply chain collaboration, we expect to see a crop carry-over of grain in the range of 18 million tonnes, which would be only about six million tonnes above the average despite a massive 100-year crop."
Agriculture Canada is also projecting a carry-over of grain of 18.5 million tonnes and calling for a crop of about 62 million tonnes next year, slightly above trend-line average and well below 76 million tons in the current crop-year. If these forecasts prove to be accurate, this will lead to another year with high stocks of grain to move in 2014/15.
Mongeau concluded: "True supply chain collaboration and normal commercial alignment -- not ill-advised and unwarranted regulation as contemplated by the federal government -- is what we need to help deliver this significant volume efficiently to the benefit of Canada's grain-growing sector."
CN is a true backbone of the economy, transporting approximately C$250 billion worth of goods annually for a wide range of business sectors, ranging from resource products to manufactured products to consumer goods, across a rail network spanning Canada and mid-America. CN - Canadian National Railway Company, along with its operating railway subsidiaries -- serves the cities and ports of Vancouver, Prince Rupert, B.C., Montreal, Halifax, New Orleans, and Mobile, Ala., and the metropolitan areas of Toronto, Edmonton, Winnipeg, Calgary, Chicago, Memphis, Detroit, Duluth, Minn./Superior, Wis., and Jackson, Miss., with connections to all points in North America. For more information on CN, visit the company's website at www.cn.ca.
Companies in this article