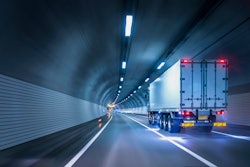 Trademark Transportation believes the true test of business relationships lies not in the promises made, but in the promises kept. Customers need capacity, competitive cost management, and 3PL partners who can accommodate growth. Carriers need tonnage that's aligned with the lanes, frequency, volumes, and timing that are a match to their service sweet spots. Trademark Transportation is a 3PL that has been making and keeping promises that maximize efficiencies for both groups since first opening its doors in 1983.
Cold Chain Powered by Know-how
Trademark designs, builds, and manages cold chain programs tailored to the needs of our customers. With a deep understanding of the food industry, along with the unique challenges of temperature-controlled LTL, our nationwide network offers Consolidation, Distribution, Managed Services, and Cold Storage services.
The company is built upon customer and Carrier relationships established over four decades. Our proven process, experienced people and custom-built logistics software make doing business with us easy. "We pride ourselves in partnering with our customers to build custom cold-chain programs that suit their needs," says Charlie Singleton, lead engineer at Trademark Transportation. "This same understanding applies to the challenges faced by our carriers, as well; it has helped us to establish a nationwide network of dedicated carriers."
Trademark's Customer service is key to maintaining customer confidence that their shipments will arrive on time and at the proper temperatures. Customer service works closely with our Logistics group and our Carriers to monitor shipment status. In the case of potential delays or disruptions to expected service levels our team proactively notifies customers and protects against unwelcome surprises. "Our customers appreciate this level of transparency and communication, as it gives them an opportunity to participate in the solution, or at the very least, gives them the lead time needed to provide their customers critical updates," Singleton says. "We have great people who work hard and smart to see to it that we are easy to do business with and make our customers look good to their customers," he says. "We want our customers to stand out as exceptional in an otherwise chaotic environment."
Trademark also collaborates with customers to help reduce exposure to fines and penalties incurred during transit. "When you have knowledge and familiarity with the consignees and the regulations – fines and penalties can be mitigated, if not eliminated," says Larry Dandrea, a sales representative who has worked for Trademark Transportation since the company started almost 40 years ago.
Implementing Advanced Technology
Trademark Transportation has crafted its own transportation management system (TMS) based off its industry expertise and is in the process of launching version 2.0 of the system. The latest version includes the updated capabilities in visibility, track and trace and analytics so customers can better track shipments, access records and reports and analyze what works best. The advanced TMS allows customers to leverage route planning and route optimization solutions for better planning and shipping results.
"We are continuing our development of our TMS to provide our customers the ability to perform freight optimization with multiple pricing options and scenarios to realize cost savings throughout their supply chain," Singleton says.
The company can collaborate with any company, whether they use technologically advanced systems or not.
"We work with customers with a variety of different technological capacities, ranging from no technological capacity to companies with full IT teams," he says. "Our development philosophy has been centered around our desire to be easy to do business with; we want to provide value-added technology products and services that accommodate the full spectrum of our customers technological capabilities. Our upfront fact-finding process with our new customers goes in-depth to understand the challenges our customers experience and provide a tailored technology offering."
Tailored Approach
Trademark Transportation uses a collaborative approach to meet customer needs. Our process starts with fact finding, and understanding the current situation comes first. Once we identify where the customer is now, we uncover where they want to be. We then utilize data analysis and industry expertise to explore options, identify solutions, and create plans. For example, instead of using several LTL carriers, Dandrea says the company will often use pool distribution to join several small shipments into one truck to optimize the route and help customers save money. "We're taking small, widely scattered shipments and pooling them together," he says. "It helps build efficiencies and makes things more affordable." The company can create one consolidated load. Doing so saves the customer time and money and better enables them to track and trace the route. These services can especially be of value as e-commerce orders increase and supply chain disruptions continue.
Trademark's reputation is among the best in cold chain logistics. Over the past two years, we have earned a spot within the Top 3PL and Cold Storage Award from Food Logistics, which recognizes leading third-party providers in the food industry. When presenting the award, Food Logistics pointed to Trademark Transportation's specialization in temperature-sensitive food and ingredients and a collaborative and consultative approach as a reason for its recognition.
Customers have taken notice of these services and consider Trademark Transportation a trusted partner. "We have a plan and a structure, and we understand customer expectations," Dandrea says. "I think it feels like a customized, tailor-made suit to customers. It's something they appreciate and want more of."