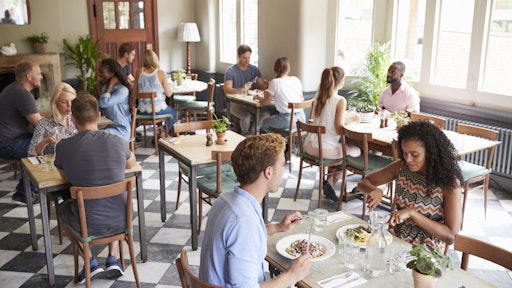 Monkey Business.
The restaurant industry is facing increasing disruption as the hiring crisis is forcing companies to do more with less people than ever before. At the same time, customer experiences are changing, and restaurants must implement technology and automation upgrades such as ordering kiosks, robotic kitchen elements, more drive-thru options and contactless means for delivery and pick up to keep up with patrons' expectations.
Restaurants are not only facing less staff in the dining room, but also in corporate headquarters, meaning they simply do not have the manpower to manage these essential changes for restaurant openings, closings, remodels, refreshes and redeployments.
Companies are working around this by partnering with third-party logistics (3PL) providers that act as an extension of their team to manage everything from procurement support and vendor management to on-site project management, warehousing, delivery and installation—a combination of support once unheard of in the 3PL world.
By doing this, companies are coming out ahead in the restaurant revolution. Those seeing the biggest benefits are seeking logistics providers with nationwide reach that create repeatable solutions to save costs, conserve manpower and streamline projects.
To find a 3PL provider that offers this level of support, look for:
· Strategic savings through non-manufacturer-controlled transportation management and consolidation and warehousing.
· Speed, consistency and savings through owned facilities around the country.
· Extended reach with global partners.
· More visibility and better outcomes through innovative technology.
How repeatable solutions streamline restaurant projects
In the past, restaurants worked directly with manufacturers to purchase, transport and deliver furniture, fixtures and equipment (FF&E). Today, smart companies know that working with a 3PL company can lead to strategic savings that minimize damage and downtime while streamlining transportation.
Manufacturers use transportation as a revenue stream. Sometimes, it can cost more to ship a product than the equipment itself. Working with a logistics provider that manages every aspect of a project means you have more control over the process. By creating a complete solution to optimize transportation spend, restaurants get strategic savings while also protecting their products and resources from loss and breakdowns in communication. Some customers have had thousands of dollars of equipment sitting in the rain after a shipment delivery because one party didn't know when another party would arrive. By working with a single point of contact for delivery and installation, there's minimal room for error—resulting in less damages, claims and time and money spent fixing mistakes.
Working with a single logistics provider for transportation and delivery services can consolidate shipments to get the best rates and ensure products will arrive at the right place at the right time. This eliminates scrambling to reroute equipment or spending tons on transportation to get FF&E to a store opening in just a few days from across the country. Working with a 3PL provider with the nationwide reach and repeatable solutions across locations means items can be rerouted or stored items can be used in different locations to save on expensive last-minute needs.
Curving the hiring crisis with national partners
The biggest brands in the industry are using repeatable solutions to more efficiently update stores around the country, building budgets for entire projects instead of starting from scratch in every location. Repeatable solutions mean a project is streamlined and coordinated down to the details, making it faster to execute and easier to problem solve, leading to less downtime. Restaurants are working with providers that have boots-on-the-ground resources in multiple locations to ensure the plan is enacted with the same quality and precision at every location and it's not draining their internal resources because they're working with one point of contact to manage the entire project.
Added cost savings also comes from working with local warehouses and teams, therefore the restaurant saves on travel costs as well as bringing in more resources if a project's timeline shifts or needs more manpower.
How 3PL technology is making it easier to manage projects from anywhere
With less staff available, restaurant employees are stretched thinner than ever. Where at one time we saw project managers on-site every day. Now, you may have a manager handling multiple refreshes in different locations at the same time. That's why it's key to work with a logistics provider that can offer visibility into your products journey from manufacturer to destination digitally.
With remote and hybrid roles continuing to grow in popularity, it's even more essential that a project manager in Dallas can track a shipment delivering in Atlanta. This sort of visibility helps identify issues before they interrupt projects ensuring resources are not wasted reacting to tactical problems, but instead strategically using data to control for critical dependencies and systematically strengthening the supply chain.
Are modern dining experiences the new expectation?
While we continue to see how the pandemic will impact restaurants long-term, many places are experiencing an increase in patrons as mandates are lifted and people resume a more "normal" way of life. However, restaurants are still trying to overcome the hiring crisis as well as adjusting to consumers' new expectations around ordering and accessing their facilities. As customers' expectations continue to evolve, restaurants looking to get ahead of the hiring curve by modernizing their locations will need to consider 3PL partners with the repeatable solutions and footprint to help them make it through the new era of dining, takeout and delivery.