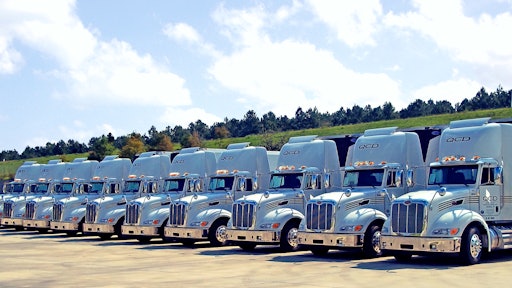 Golden State Foods
In collaborating with thought leaders throughout the foodservice and logistics industries, a paradox emerged, giving us pause. Collectively, the world produces enough food to feed the entire planet one and a half times over. Yet somehow, despite this excess, hunger still exists and our global food distribution network proves to be inefficient. This is perhaps the greatest motivator for more efficient and interconnected supply chains.
These solemn facts do not deter, but instead encourage the foodservice industry to collaborate and utilize "SMART" technology (self-monitoring, analysis and reporting technology) to break down the barriers to safely feed the planet.
Synchronizing the supply chain to fine-tune for solutions
A few years ago, Golden State Foods (GSF) adopted the mantra, "Think Big...Start Small," which led to GSF taking bold steps in its digital supply chain journey. We converged emerging technologies like Internet of Things (IoT) and artificial intelligence (AI) to maximize potential. By leveraging a data-rich environment, we created meaningful connections with suppliers, service providers and customers, and enabled the visibility of near real-time product movement, building trust in every transaction. Trust was built because transactions were captured and validated digitally, eliminating human intervention and the potential for error. We quickly compiled a backlog of additional use cases resulting from ideating with our supply chain partners.
The melody from a single violin is unique, but when you combine it with other sounds from an orchestra, the result is a symphony. The violin's melody is still audible, but it's also synchronized with every other instrument. This delivers a sound that is far richer than a single violin could ever produce. This is analogous to what you can create when collaborators from across the supply chain come together and work off of the same sheet of music. Common goals promote a harmonious environment, while collaborating to monitor food and get it to where it is needed, at the right time and in the right quantity.
Orchestrating success beyond traditional reach
Digital technology advancements allow businesses to transcend beyond a brick-and-mortar mentality and potentially create new operating models that connect every player regardless of their size and geography. In the future, businesses will continue to evolve their operating models into digitally connected business networks whose collaboration creates shared value.
The rapid advancement and accessibility of IoT solutions allows monitoring systems to act as accelerators. Companies are employing these technologies in efforts to be increasingly attuned to their customers' preferences, while reaping the benefits of increasing yield, extending product shelf life and optimizing resources. Fine-tuning and harmonizing solutions that also supports sustainability leads to greater growth and stability.
As GSF advanced on their journey to track, trace and monitor product freshness along its supply chain, we unmasked the benefits of utilizing IoT and monitoring devices to reduce process variability and ensure product freshness from the manufacturer to the kitchen table.
Monitoring temperature throughout the supply chain ensures product quality, effectively eliminating manual check points as product changes custody. Unintended inventory management benefits from tracking the product movement included increased visibility into shelf-life optimization, agility to pivot in response to consumer demand and improve effectiveness of production schedules, hence providing an opportunity to prevent waste in near real-time.
The sound of sustainability
Throughout the global food supply chain, the primary vision is to fine-tune the performance of every player to create a circular economy where everyone wins at reducing waste and optimizing resources. Making the in-demand amount of product, turning the inventory over faster and shipping it to the correct in-need location reduces the use of energy and power, thereby supporting sustainability. The power of this circular economy view is that we can avoid over-production, thereby reducing our carbon footprint and excess consumption of resources such as energy, water and materials.
Technology is bringing together new entities within the supply chain and enabling them to listen and connect seamlessly, so they can fully participate in an orchestra conducted by a digitally savvy consumer. Companies that prefer to work alone or to be siloed create new tunes that only increase the static in the world. However, if we leverage SMART technology to connect and synchronize, we can make music out of the noise. Only then can we build strength in our interconnectedness to reach the masses and serve an even greater purpose, providing sustainable supply chains to those who need them most.
When you think of SMART technology, think of an orchestra and a conductor. Technology is the instrument played by the many diverse, talented players in an ecosystem and conducted by the end consumer's purchasing behavior. Using advanced monitoring technology to fine-tune efficiencies in production and match consumption trends will accelerate efforts to create more sustainable food systems and life-saving distribution networks.