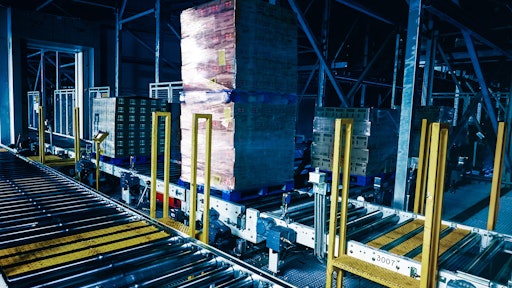 Americold
A recent report from research firm Packaged Facts states that Generation Z, the group born between 1995 and 2010, is characterized by households that are "25 percent to 29 percent more likely to consume microwaveable dinners and 26 percent more apt to eat frozen breakfast entrées or sandwiches—23 percent more likely to eat frozen dinners and 10 percent more [likely] to eat dry packaged dinners, dinner mixes and kits." The same group was also more likely to be vegetarian, and definitely more likely to demand organic and healthy foods. 
Consumer food habits are clearly changing—and it is having a direct impact on food supply cold chains and cold storage facilities.
What's Driving Today's Cold Storage Demand?
"Three factors are driving cold chain demand today," said Carl Fowler, SVP of regional sales at Americold. "First, consumer demand for fresh food is growing. Second, retail outlets are exploring new channels to meet customer demand. Third, the global food supply chain is expanding."
He adds that, "Five years ago, consumers weren't asking for more choices in fresh and frozen foods. This has changed [in part] with the advent of social media promoting healthy eating trends. As a result, instead of 10 varieties of frozen pizza, we now have entire freezer aisles devoted to dozens of pizza varieties with new, healthier options."
These changing consumer demands aren't unique to the U.S., however.
Increased demand for seafood is evident around the world, given the significant population growth in China, India and Brazil that is driving the frozen fish and seafood industry. This growing desire for seafood and other foods has led to a rise in imports and exports among countries. In turn, this is driving the need for more cold storage and refrigerated transportation.
"Other trends are adding to this as well," notes Heena Patel, food safety technical director for SCS Global Services. "The retail sector has grown and there is increased concern about food waste, product recalls and product withdrawals. The number of cold-stored products in demand has also grown. Products now range from refrigerated or frozen desserts, fruits, vegetables, and beverages, to meat, fish and seafood. Food products not stored and distributed within required temperature ranges will adversely affect quality and food safety, so refrigeration and cold storage are very important."
Nick Pacitti of Tippmann Innovation confirms that, "We see more and more food shippers, distributors and efulfillment providers in need of cold storage and refrigerated centers."
What companies like Tippmann Innovation are doing is creating more "building in a box" cold storage, actually redesigning existing available commercial space into sections of internal cold storage that are housed within the walls of these existing facilities.
"The demand for cold and fresh goods has grown," says Pacitti. "Since 2010, the U.S. population has grown by 20 million people. This has placed pressure on the U.S. supply chain infrastructure. There is also a need for a 'distributed cold chain' where the placement of refrigerated fulfillment centers are closer to demand clusters enabling more efficient and faster deliveries direct to the consumer."
While expanding the network of cold storage facilities so they can be proximate to consumer markets is one trend, another notable trend is the adoption of Internet of Things (IoT) systems and technologies to improve cold storage and refrigeration processes.
"There are more companies using tools for automated temperature monitoring in the refrigerated or freezer trucks (reefers) that are used to transport food products," says Patel. "The FDA also has specific stipulations under the Food Safety Modernization Act (FSMA) for maintaining temperature, and customers that use transport trucks request temperature and environmental verifications at times. Transporters and distributors are using cellular and Wi-Fi capabilities that enable a device to connect via cell service when necessary and via the customer's existing Wi-Fi network when available. These monitoring devices act as a cold chain reliability data logger, ensuring food safety monitoring and compliance."
Mounting Cold Chain Pressures 
Meanwhile, food manufacturers, shippers, distributors and retailers are up against several challenges:
Foods must be delivered in fresh, good tasting and safe condition for consumers to enjoy so they maintain a good impression of the company brand
Foods that are delivered on time and "on demand" to consumers who are accustomed to Amazon service
A wide variety of foods that gives consumers options—which means that those in the food supply cold chain must deal with many more products, product SKUs and environmental cooling conditions.
This isn't an easy order to fill.
Ground beef recalls are all too common. In April, the CDC announced a new E. coli outbreak that infected 109 people in six states, which was tied to ground beef. This recent incident followed on the heels of the E. coli outbreak that struck romaine lettuce in January. Food recalls like these as well as the expense of spoiled food caused by inadequate refrigeration can quickly turn consumers away from a food brand or retail outlet.
"It is this lack of food safety and quality awareness in the storage and transportation industry about the importance of cold chain maintenance from door-to-door that can have a major impact," said Patel. "Freight and transportation companies need to train their drivers on the maintenance of product integrity and how the lack of cold chain maintenance can affect product quality and safety."
Can Technology Help?
For the past five years, a host of technologies ranging from cloud-based supply chain software to IoT sensors and devices to near real-time analytics reports have all offered partial answers to managing the cold chain and cold storage.
Company efforts have focused on bringing all of these technologies together into solution sets that present total solutions, but perfecting these systems is still a work in progress.
"We are seeing automation and robotics replacing time-consuming manual processes, speeding up the movement of food through the nation's supply chain," says Americold's Fowler. "Our newest facility in Rochelle, Illinois, can automatically process orders around the clock without human intervention…This is not to say that automation will replace the human workforce—rather, we implement automation when appropriate and where it makes sense to free up people to perform higher-value work."
The need for highly qualified personnel in the food supply cold chain cannot be overstated.
In 2017, it was estimated by the Council of Supply Chain Management Professionals (CSCMP) that there was one qualified person for every six job openings in the supply chain industry; and in 2018's forecast it was projected that the supply chain industry in the United States alone would need to recruit an additional 1.4 million individuals to meet its talent needs.
"The driver shortage is one major issue in logistics and for the cold chain," says Pacitti. "It is estimated that by 2026 there will be a shortage in the U.S. of 180,000 drivers. No one wants to drive long distances and cold storage facilities will be much more localized, being placed well within a 500 mile radius. Today, this radius is moving even closer, with mini regions setting up where cold storage facilities are placed within a 250-300 mile radius."
Cold Storage Best Practices
Given the diversity and the increasing volumes of perishable goods that consumers are demanding, food retailers, distributors, logistics providers, producers and those that provide cold chain and cold storage services must develop strategies for meeting changing markets.
"Consumers want more products delivered to them more often," says Pacitti. "There is also a move toward specialty foods, and more products are being imported and exported to markets."
For companies with cold chain needs, what best practices will help them get the most out of their cold chains?
"Look to the cold chain for innovation and inspiration," advises Fowler. "By partnering with a company with strong cold chain expertise, companies can use the cold chain as part of the product life cycle (i.e., ripening, preservation, waste elimination). In one case, a customer leveraged our guidance on new innovations to drastically reduce waste by 100 percent."
There are also many common-sense practices that companies can enact to position their cold chain to perform more optimally.
"These practices include the maintenance of refrigeration systems and door seals in the trucks," says Patel. "Companies can also use continuous temperature monitoring devices in their trucks to ensure proper temperatures are maintained. Finally, do not overload trucks with products to maintain consistent temperature, and keep reefer units on when unloading and loading products."
The bottom line is that more consumers want their food in "near real time"—and they're willing to pay for it.
"Shoppers want to click a button and have their food delivered to their doorstep," says Fowler. "This specific demand is driving food producers and cold storage providers to find new ways to bring product to market faster."
An example is the growing demand for fresh beef in Asia. A North American company can slaughter the animal, refrigerate it in a distribution facility near an airport, and then ship the product in a refrigerated container by air to meet the demand.
"There is a shift happening in the cold storage industry, and it's also influencing workforce skills needed for the cold chain," explains Fowler. "The shift is driven by two key factors: SKU proliferation and technology. SKU proliferation means workers use data analytics to pick and fill orders, often in real time. Big data is changing the way we look at food in the supply chain process. For example, we can now track fresh and frozen produce from the farm to the retailer.
"This requires warehouse workers to be trained in new 3PL technologies and information processing," says Fowler. "It is a marked change from simply clocking in and moving products around using paper invoices."