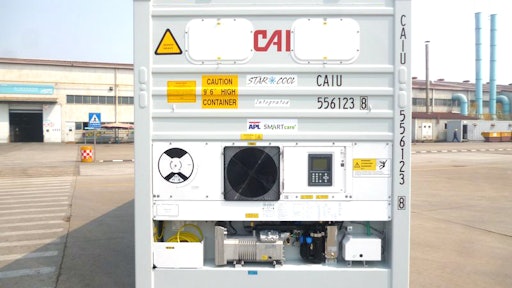 CAI Logistics, part of global transportation company and intermodal container lessor, CAI, is seeing growth in refrigerated cargo transportation both domestically and internationally.
The global cold chain, and food logistics in particular, are a "consumer-driven sector," notes Brian Akers, vice president of international logistics at CAI. People are eating healthier, he says, while the desire to choose from a wide range of foods despite the season is also driving demand.
Among the variety of refrigerated cargoes handled by CAI Logistics, ice cream exports from the U.S. to the United Arab Emirates and several other Middle East countries is one that requires the utmost care with regards to time- and temperature-sensitive transportation and handling.
The ice cream is shipped from the U.S. by one of the world's largest franchisers of ice cream.
"With ice cream, you've got to have the proper equipment, the proper temperature, and fast supply chain transit times to make sure you literally don't have a melt down," says Akers.
CAI Logistics has an advantage as an asset-based logistics provider that also has very close relationships with all the major ocean carriers.
According to Agriculture and Agri-Food Canada, ice cream products in the UAE have experienced steady growth over the past five years, with total growth in retail sales value of 28.6 percent, at a compound annual growth rate of 6.5 percent from 2012 to 2016. The impulse ice cream category, which is made up of single portion dairy or water ice cream sold in stick, cone or small cup format for immediate consumption, is the most popular category. Consumers in the UAE also tend to prefer premium brands compared to standard and economy brands.
On the import side, CAI Logistics is supporting the citrus industry, including the orange juice sector, with domestic over-the-road freight move, says Akers.
CAI Logistics' experience in moving food and beverages is a definite plus, he says, and so is having "the capacity within the network to move it," which means access to reefer containers, and relationships with ocean carriers and cold storage providers.