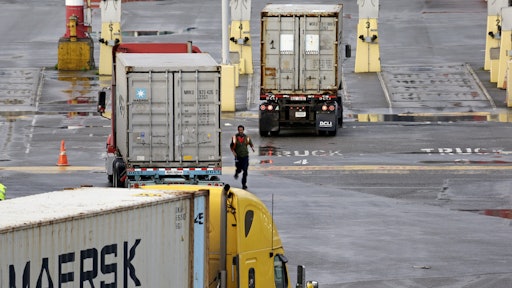 Four years ago, I wrote a post for our company blog titled: "The Death of the Buck-a-Mile Backhaul."
At the time, those cheap hauls seemed to be going away. In March 2012, only one major van lane paid the carrier $1 per mile: Philadelphia to Chicago, at 48 cents for the line-haul portion plus a fuel surcharge of 52 cents.
Of course, truckers were spending more than $4 a gallon for diesel in 2012, and a lot of other costs had risen well above historical levels. Truckers were turning their noses up at dollar-a-mile freight and rightfully so.
Today, the price of fuel is way down and so is the average fuel surcharge (around 17 cents for vans). But insurance, labor, equipment, and other operating costs have gone up. Operational costs couldn't be covered at $1 a mile in 2012, and they can't be covered now.
Yet, I regret to say, the "buck-a-mile" backhaul persists on U.S. truckload lanes.
During the week ending May 21, the average spot van rate out of Denver was $1.09 a mile, with Denver to Stockton paying 91 cents. Chicago-to-Los Ángeles paid $1.04 amid stiff competition from rail. Dallas-to-Los Angeles paid $1.05, Atlanta-to Los Angeles was $1.11, Allentown-to-Chicago was an even $1—every region of the country had a major van lane where the average was in the vicinity of a buck a mile.
Rates have not rebounded as expected this year, and truckers are feeling the squeeze. Spot van rates were 19 percent lower in April than they were in April 2015. Reefer rates were down nearly 16 percent.
With the cost of diesel now rising, expect spot rates to climb. But any added margin will go into the tank and not the bank.
Since the buck-a-mile backhaul lives on, use it to your advantage: Taking a low rate for a relatively short distance can be a smart move if you can use it to reposition your truck for better opportunities. Check your load board and pair that low-paying lane to a high-paying head haul. Here's hoping that better times are on the way.