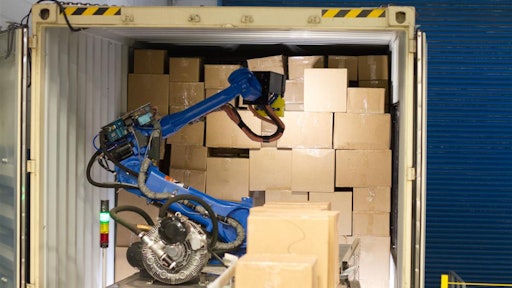 The expansion of goods-to-person picking in food and beverage (f&b) supply chain operations portends a bigger role for automated material handling systems, including more complex systems such as robots. Robots, specifically defined as machines that resemble humans and perform tasks on command, remain rare in f&b facilities in the U.S. But technology solutions continue to evolve, hastening robotic deployments.
Today's robots are more precise in their movements and are directed by more robust software, allowing them to do more complex tasks. More robots carry sensors and cameras that enable them to automate more processes. The "collaborative" robots that have emerged in recent years can work safely in the same environment as humans, creating even more opportunities to utilize time-saving and safety-enhancing robots. In addition, robots are becoming more affordable.
The newest robots can meet the rising demand for logistics technology. These solutions include truck loading, unloading and mixed-case depalletizing. Robots help improve the operational effectiveness of warehouses and distribution centers by:
Reducing injuries to workers
Reducing product damage
Reducing loss due to theft
While robots are still rare in f&b operations, the market continues to expand and observers believe f&b applications will be part of this growing market.
Winter Green Research, based in Lexington, Mass., recently reported the global industrial logistics robotics market has increasingly diversified and is poised grow in every industry. The report specifically notes that logistics robots improve efficiency in food production.
Robots and automation: Is there a difference?
When discussing robots, technology providers and their customers often use the term interchangeably with "automation." While this has been true since industrial robots first deployed in the 1950s, the definitions have blurred as robotic and automation capabilities have both expanded over time.
The purpose of this article is two-fold: 1) to update readers on opportunities for applying robots in the f&b supply chain and 2) to clarify the definitions of automation and robotic technologies. Food Logistics believes these terms are more useful when clearly defined.
These definitions are also important as automation and robotic technologies increasingly work in tandem in the f&b supply chain.
An AGV, for instance, can be fitted with robotic arms to lift and move shelves. Calling the AGV a robot with the added capability therefore makes more sense than calling it a robot without it.
F&B: beverage production leads with robots
To the extent that robots have been used in f&b, they have largely deployed in fulfillment and packaging in production operations, particularly in beverage manufacturing.
For example, FANUC's LR Mate 200iD/4SC robot equipped with its new iRVision 3DA/400 locates and picks randomly-oriented bottle caps from a bin in a beverage production facility. The sensor provides 3D location of the bottle caps in the bin. The robot then picks the bottle caps from the bin and places them in a second bin at high speeds.
iRVision's interference avoidance feature prevents the robot from coming in contact
with the bin walls. The speed and position check software restricts the travel of the robot to the exact area in which it works.
New robots find a place in warehouses
The growing demand for handling smaller quantities has created an opportunity to deploy robots for warehouse picking and packing operations. Robots combined with material handling equipment can build mixed pallets efficiently as e-commerce drives the demand for smaller quantity orders.
Amazon.com deployed robots in its e-commerce fulfillment centers this year. The company claims it has reduced the time it takes to pull an item from a shelf and place it in a box from 90 minutes to 15 minutes. The company has been able to speed delivery of items while reducing the cost of goods shipped.
Several robotic experts active in the f&b space think robotic technology will deploy in palletizing and depalletizing functions. They note that the need to move smaller quantities through the supply chain is driving the movement of case loads more than full pallet loads.
"Swisslog and our customers have migrated from pallet handling systems to case handling systems," says Brad Moore, vice president of AGV Pick for Switzerland-based Swisslog, a division of KUKA, a German robot maker. "More and more, we're seeing the cases be the driver of the medium."
As SKU mixes increase in response to changing market demands, Moore sees robots playing a bigger role in warehousing and distribution.
This is also a reason why more AGVs are being deployed in DCs, Moore says. In food DCs, they are being used primarily for mixed-case picking. The falling cost of AGVs is also supporting this change.
Moore thinks further innovation is coming faster than many realize. AGVs will soon be equipped with lights that will allow them to self-verify picking accuracy.
Swisslog has also deployed a robotic goods-to-person order picking system specifically designed for the intralogistics requirements of fulfilling e-commerce orders. In this scenario, product variability, delivery time and cost efficiency are daily challenges. The company has introduced the solution, called CarryPick, to Europe and the Far East.
Matt Wicks, vice president of manufacturing systems at Intelligrated, a Mason, Ohio-based provider of automated material handling solutions, agrees that robotic depalletizers will help companies manage the growing need to manage smaller SKU quantities.
Wicks also agrees the use of the term "robot" has changed as materials handling equipment has become more versatile. Many observers view shuttles that retrieve inventory from shelves as robots. Wicks considers a technology robotic if it manipulates objects such as products, boxes or pallets in a way that is more advanced than in the typical warehouse.
Are AGVs robots?
Raad Asmaro, account manager at FANUC America, sees many of today's AGVs as robots. He thinks the term increasingly fits AGVs as they perform more functions. AGVs are no longer simply moving pallets from unloading zones to storage areas or from storage areas to loading docks. They are also handling more of the actual loading and unloading to and from trucks.
Companies today are deploying AGVs to build pallets and to place them onto ASRSs. As ASRSs expand in f&b warehouses, AGVs will follow.
Asmaro agrees that in the f&b sector, robots have been more active in production operations than distribution. But like other observers, he says this is changing. FANUC America, for its part, is exploring ways to add robotic arms to AGVs.
Some see AGVs' advanced navigation capabilities allowing them to replace humans. Bryan Duncan, director of solution sales at Wynright, says AGVs are gaining the ability to discern, pick, place and report. As it replaces human activity, "that's more pure robotics," Duncan says. "You have taken the place of a person that's doing that. The holy grail is to be able to do that with minimal effect on infrastructure in an operation."
The ROI for using AGVs to load and unload trucks has proven itself, Duncan says. For picking inventory in the warehouse, the ROI remains to be proven. "You're not seeing it that often yet on the pick side," he says.
Intelligrated's Wicks says AGVs have gained popularity as they have been able to automatically reroute themselves around objects in a warehouse. "That ability opened up additional application possibilities," he says.
The Raymond Corp. Courier, an automated lift truck, is designed to work without the need for any IT integration or infrastructure requirements, such as artificial landmarks. An operator loads and dispatches the lift truck to go on an automated mission (e.g., dropping a pallet at a station and coming back). Similar to manually operated trucks, Raymond has customers installing a WMS terminal on the truck as an add-on.
Collaborative robots join the fray
Some see the expansion of "collaborative" robots as creating more opportunities in the f&b sector.
The key advantage to collaborative robots is their ability to perform a variety of tasks, as opposed to the large, industrial robots used for high-speed, repetitive motions. Collaborative robots can roam free rather than being bolted to a single location, and have safety sensors that prevent them from running into humans.
The robots have tactile sensing to direct their movements. They include graphical interfaces and can also be instructed to do a new task.
Another advantage to collaborative robots is they typically cost less than conventional ones.
Chris Harbert, director of sales for manufacturing solutions, global research and education markets at Rethink Robotics, acknowledges that collaborative robots are not always best suited to operations where speed is of paramount importance. Nonetheless, he claims they are better suited to more of operations where a more customized approach is needed.
Traditional robots, he notes, need to be stationery. They also require a process that does not involve a lot of change. "If you need to change something (in the process), that's a hard day," Harbert says.
FANUC America recently introduced its first collaborative robot. The CR-35iA collaborative robot features six-axis articulation. A soft foam green cover protects workers who are in direct contact with the robot. The robot's shell is green to distinguish the collaborative robot from the standard yellow FANUC robots. The CR-35iA robot was developed to help manufacturers solve ergonomic challenges by handling applications that are physically demanding for humans, such as heavy lifting.
FANUC's Asmaro says the CR-35iA can perform palletizing tasks with no need for a protective barrier between the robot and humans. He says he expects the robot will find application in the f&b sector.
Asmaro does not see collaborative robots taking the place of conventional ones. Conventional robots, which are faster and require protective barriers with humans, will continue to increase where speed is critical.
Intelligrated's Wicks believe collaborative robots have yet to prove themselves in the warehouse. "The technology's not quite there yet, but has potential," he says.
In order for a robot to fully take over the role of a picker, it has to be capable not only of arm and hand manipulation, but also object and pose recognition. It must also have the ability to plan its movements and grasps to a fine degree of precision. That day remains in the future.
Giant Eagle Pioneers Vision Guided Vehicles In Putaway Operations
Giant Eagle Inc., the Pittsburgh, Pa.-based supermarket chain, has deployed Seegrid and Raymond Corp. vision guided vehicles (VGVs) in their retail support centers. Giant Eagle has reduced manned travel from putaway by 20 to 30 percent by VGVs.
"The cost effectiveness that the new system incorporates has allowed us to remain successful in an extremely competitive environment and bring value to our end customer," says Joe Hurley, Giant Eagle's senior vice president of distribution and logistics in a Seegrid case study.
The VGVs have increased high-lift pallets per hour by 35 to 45 percent, delivering an average savings of 1.5 minutes per pallet hauled and reducing manned travel from putaway by 20 to 30 percent. The WMS notifies the high-lift operators to complete the putaway process once the product has been delivered to the aisles by the VGVs. There have been no accidents.
For More Information:
FANUC America, 888-326-8287, www.fanucamerica.com
Intelligrated, 877-315-3400, www.intelligrated.com
Raymond Corp., 607-656-2311, www.raymondcorp.com
Seegrid, 877-733-4743, www.seegrid.com
Swisslog, 41-62-837-9537, www.swisslog.com
Wynright, 847-595-9400, www.wynright.com
Winter Green Research, 781-863-5078, www.wintergreenresearch.com
Companies in this article