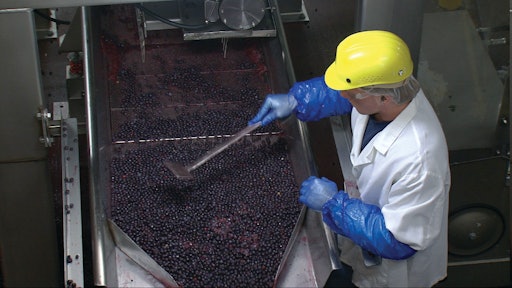 Food safety is easily one of the top concerns for today's food supply chains, extending from growers and producers to logistics providers and grocery retailers. While new food safety regulations typically go hand-in-hand with increased costs, the fact is that food safety breaches, no matter how minor, can easily exceed the cost of compliance.
Some 3PLs and technology providers in the food sector are taking a leadership role in the area of food safety, implementing processes that exceed current requirements and raising the bar for the industry at large.
Ryder is an example of a company who took an early interest in promoting food safety throughout its operations, which encompasses transportation, warehousing and packaging for food clients. Prior to the implementation of the Food Safety Modernization Act (FSMA) in 2011, Ryder recognized the importance of food safety and took steps to assure equipment was safe for food transport. Among other measures, the company implemented stringent inspections of truck trailers to assure they were clean, sanitary and odor free. For refrigerated equipment, checks were made to ensure it would maintain proper temperature throughout the shipment, explains Darin Cooprider, Vice President & General Manager of Consumer Packaged Goods at Ryder.
"We've been doing this for a while," he says, explaining that Ryder made a decision early on and in advance of regulatory mandates to invest in food safety standards that were beyond the industry norm.
"As a large logistics provider to the industry, we view ourselves as an extension of our customers. We try to create a value proposition for our customers and we obviously take our role in supply chain execution to heart. What that means is that we have to be proactive, just as our customers are proactive in their business, to safeguard the commodities that are within our control. That also means avoiding problems; not just fixing problems after they have occurred."
This approach compels Ryder to make investments throughout its operations, including its logistics facility in Beaver Dam, Wis., which supports cold and frozen food distribution for a variety of food manufacturers. The facility features 30,000 pallet positions (23,000 racked), 40 shipping doors, seven blending stations, five packaging lines, two IQF freezing tunnels/blanchers and high speed robotic palletizing for frozen vegetables, fresh vegetables and fruit, pasta and rice, sauce and flavor packets, and meats and proteins.
According to Cooprider, "There are a number of steps we take to proactively safeguard the food supply. These range from Current Good Manufacturing Practices (CGMPs) and processes instituted by our customers, to third parties like Silliker and the American Institute of Baking (AIB International)."
On the transportation side, Ryder is using the latest tools to track the temperature of trailers in real time, says Cooprider, and electronically alert the driver if anything comes close to "going out of spec." Furthermore, a robust WMS solution goes beyond tracking at the code date level and provides tracking by SKU to provide enhanced visibility of product throughout the supply chain when it's in Ryder's "care, custody and control," he adds.
The justification for ongoing investment in food safety is simple. "We are a company that has a high reputation for quality and service," explains Cooprider. "We would never want our reputation to be sullied by issues of our own or those we could potentially bring to products within our care. That's what really drives Ryder to make the types of investments that we make."
As for the future of food safety regulations, the only certainty is that "they will become more prominent, not less," emphasizes Cooprider. This requires Ryder to stay up to speed with current requirements and figure out "the best way to economically deal with the problem and manage the issue."
Cold chain integrity enhances food safety…
Advancements in cold chain technology produce a multi-pronged effect in the food supply chain from improving food safety to reducing product waste and supply chain costs.
Jeff Leshuk, VP Strategic Marketing & Business Development - Food Division at Sensitech, notes that, "The food business, especially the supermarket business, is very competitive. That means there is a relentless drive toward greater efficiency. As efficiencies have been wrung out of other areas of supermarket operations, including distribution and much of the low-hanging fruit has been harvested, there is increasing focus on reducing shrink and waste. Cold chain management is a key factor in managing shrink, especially in produce."
He adds that, "Year after year, studies show that consumers choose which supermarket they will shop based on quality of the perishables. The quality on the shelf is a combination of two main factors—the initial quality of the product from the supplier and how well that product is handled as it is distributed from supplier to the supermarket; the most important factor in handling most perishables is temperature. The competition to have the best quality of perishables drives the effort toward continuously improving the cold chain."
Meanwhile, a rise in foodborne illness outbreaks over the past 8-10 years has intensified the focus on food safety, says Leshuk.
"The FSMA aside, individual food companies and food industry trade groups have been taking steps to mitigate the risk and liability around foodborne illnesses. These efforts, along with the heightened awareness around foodborne illnesses, have driven investment toward improving cold chain visibility and in cold chain improvement."
Sensitech is keeping up with the evolving cold chain demands with its suite of TempTale products and support services.
"Today, Sensitech's combination of hardware, software and services are used to monitor and manage the cold chain across a variety of market segments and multiple segments of the cold chain," says Leshuk, including floral, seafood, meat, baked goods, deli and dairy, as well as processed and frozen foods. The company also has a very strong international presence in both refrigerated food trade and in the global pharmaceutical sector protecting temperature-sensitive products like vaccines.
While the company offers an array of cold chain monitoring products, "Sensitech is fundamentally a service company," states Leshuk. "We offer a wide variety of hardware to measure temperature; however that's only a tip of the iceberg. We provide our customers cold chain visibility and help them to understand and improve their cold chains. This requires a combination of hardware, software and services, as well as the ability to support all of the stakeholders in each segment of the cold chain," he says, "even if their cold chain stretches around the world."
Leshuk says the company has invested heavily in its Professional Services Department, which provides program management and cold chain expertise to customers.
"This is a large, cross-functional team that includes a number of disciplines working together to help our customers improve their cold chains," he says. Experts from food science, postharvest horticulture, refrigeration, computer science and statistics are among those comprising the team.
Achieving cold chain integrity requires a customized approach to each customer's specific needs, he adds.
"From a hardware perspective, that means we offer a full range of devices from simple electronic indicators and mechanical strip chart recorders to sophisticated real-time monitoring devices. Our Internet-hosted, data management system called ColdStream has passed hundreds of customer audits and serves as the backbone for our Cold Chain Visibility programs, enabling customers to easily integrate their shipment information and connect it to the temperature data. In addition, through our services team, aggregating many trips over time allows for rich analysis and the development of a culture of continuous improvement."
Leshuk sees several notable trends in the cold chain sector. "Perhaps the most interesting and significant trend, especially in terms of the impact to the final consumer, is the shift in focus from using temperature monitoring simply as a tool for making dock-level decisions on an individual shipment basis, to using temperature monitoring as a tool for continuous cold chain improvement on a system-wide basis.
"Additionally, there has been a trend toward monitoring a wider variety of products," he says. "In the past, the products that were carefully monitored tended to be the more perishable produce and seafood items—while in recent years, there has been much more attention paid to cold chain management and monitoring for meat, deli, and frozen products."
Moreover, Leshuk sees a trend toward real-time monitoring. "While the technology for real-time monitoring has been available for many years, it has just recently become affordable enough to make sense for food shipments. Sensitech's view is that customers will utilize a variety of data collection devices—including radio frequency and real-time—depending on the detail and timing required for information. The most important piece is that all of that data resides in a central, secure repository to be analyzed and utilized on a system-wide basis."
…while cargo theft compromises food safety
According to FreightWatch International, during the first quarter of the year food and beverage (excluding alcohol) shipments remained the top targets for cargo thieves, accounting for 21 percent of U.S. cargo thefts.
This does not surprise Walt Fountain, director of Safety and Enterprise Security for Schneider, who says it is relatively easy for thieves to turn stolen food/beverage products.
"Once that product is introduced into the economy, the consumer can't tell between one box of macaroni and cheese and a box that's been stolen."
The potential consequences for food safety issues are obviously compounded for stolen shipments. However, Fountain says there are many ways for shippers and logistics providers to work together to secure cargo and deter thieves.
One of the most important begins with a simple conversation. Fountain advises shippers to talk with their logistics providers' security team and ask what measures they use to secure loads and if there is something more the shipper can do to guard against cargo theft, "because not every load is the same. There is a variance in the methodology we use to protect loads and mitigate risk," he says.
Some measures are fairly effortless yet highly effective, such as positioning food products toward the nose of the trailer and loading collapsible cardboard displays at the back so as to conceal the trailer's contents if a thief were to open the trailer doors.
Fountain also suggests that shippers invest a few cents more on high quality seals. Schneider executives gladly share information with shippers on the different types of seals and their quality, he says.
Another tip is "making sure your carrier padlocks the trailer. Most thieves are really kind of lazy, so a simple padlock can really help protect your load."
Schneider's dedication to reducing cargo theft is paying off. Last year marked the seventh consecutive year the company achieved a reduction in cargo theft. Complementing the fundamental steps to securing cargo is Schneider's communication and technology tools, explains Fountain, including a pre-notification system and geo-fencing solution.
Schneider deployed its pre-notification system about five years ago to provide shippers and consignees with detailed information on the driver assigned to deliver or pick-up freight and prevent fictitious pick-ups—a type of incident that jumped 44 percent last year, according to freight security firm CargoNet.
Meanwhile, the geo-fencing solution used by Schneider is customized for the company's network, drivers and operations.
"We put about a million miles a day on our fleet, which means our drivers are stopping at a lot of different locations," says Fountain. "On any given day were know there are 50-75 places in the U.S. that thieves are going to target."
High-risk areas are geo-fenced and drivers are alerted with real-time intelligence to avoid these areas or mitigate exposure. "The solution usually gives them 2-3 alternatives that are safer and more secure," Fountain says.
Schneider also uses geo-fencing for weather alerts, primarily for tornado warnings. "Often times tornado warnings and information are disseminated by county. But drivers don't always know what county they are in [because they may be unfamiliar with the area]," says Fountain. "When the NOAA (National Oceanic and Atmospheric Administration) weather alert comes out, whether it's for tornadoes, high winds or flash floods, the system automatically creates a geo-fence around the affected area so any driver(s) in the area get alerts."