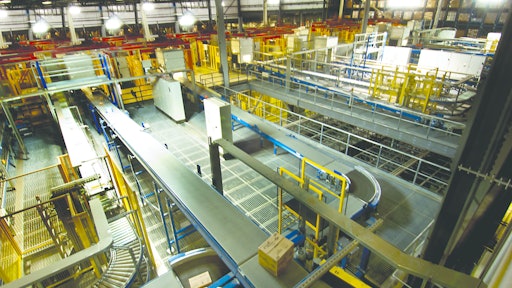 In ten year's time, ES3's grocery warehouse in York, Pennsylvania has steadily taken collaboration to new heights among food and CPG manufacturers and their retail grocery customers, yielding environmental and supply chain successes that are gaining recognition throughout the industry.
The facility, which features warehouse automation equipment and technology designed by SSI Schaefer, has not only garnered prestigious awards, but has established itself as a model for the future.
And while the initial response from some in the industry may have been tepid, many are taking a second look.
A vision in the making
One of the first components of ES3's collaboration concept was its Consolidation program, which was launched in 2002.
"There are a lot of planned out of stocks in the industry," explains Brenda Hambleton, ES3's chief strategy and marketing officer.
For example, if a retailer is out of stock on a slow moving item like cocktail sauce, they typically wait to order a full truckload of ketchup to go with the cocktail sauce in order to make it cost effective to replenish that slow moving item.
According to Hambleton, the goal was to eliminate that constraint and allow product to flow from the manufacturer to the retail store when it was needed and in the quantity it was needed.
In response, ES3 created a multi-manufacturer operation and facility that boasts over 60 manufacturers with distribution throughout the Northeast U.S. Retailers place their orders with the manufacturers and ES3 simultaneously, and ES3 creates a full truckload comprised of multiple manufacturers' products. Consolidated orders are delivered in less than 24 hours from the time the order was received.
Now, the retailer can order a pallet or a layer of cocktail sauce and it gets placed on a truck along with an array of products the retailer is ordering from multiple manufacturers.
Currently, ES3's Consolidation program is unique to the York, Pennsylvania facility. However, the company is working on taking the program nationally, says Hambleton.
Although some manufacturers may have been slower to gravitate towards this model, many have come to appreciate the benefits. "For one, they see financial savings by sharing transportation and creating full truckloads. Secondly, they're experiencing better fill rates on the retailers' shelves, which means they end up selling more product," says Hambleton.
Sustainability is also improved, she points out. "Trucks running out of the facility are very full; typically about 10 percent fuller than conventional trucks because we have the opportunity to mix it across more product, which ultimately means less trucks on the road."
Two years ago, ES3 further enhanced its collaboration concept with the addition of D2S, or the direct-to-store program, which won the Council of Supply Chain Management Professionals' (CSCMP) 2011 Supply Chain Innovation Award. With D2S, product flows from the manufacturer's factory to ES3 and then directly to the retail store, saving manufacturers and retailers more than 30 percent of their supply chain costs. The program essentially eliminates a distribution center, a leg of transportation, and 50 percent of the associated energy usage for a more efficient supply chain.
ES3 is in the midst of growing the D2S program, says Hambleton. "We've been scaling it up to handle more and more retail stores."
SSI Schaefer shares in the dream
The collaborative concept has many supporters, including Ahold, ES3's biggest D2S retailer, and Del Monte too. Another partner has been SSI Schaefer, which provided ES3 with the warehouse automation and technology to make the dream a reality.
ES3 looked at a number of vendors' automation solutions prior to settling on Schaefer for a major facility automation project several years ago, says Hambleton. The decision hinged on the ability to perform a "massive amount of case pick, including the ability to handle over 20,000 individual items for the D2S program," she says. "Schaefer's automation really helped us achieve SKU density. We took off a high number of SKUs that had lower case pick volume and used Schaefer to manage those SKUs, while faster movers were selected manually. So, the pick paths are more compressed and much more efficient."
A collaborative spirit was at work during this stage as well. "We were looking for an automation partner who was willing to be flexible and expand on what we already had in place. It was also important that the solution provide both storage density and new technology," adds Hambleton.
Schaefer's Case Picking System (SCP) combined with the Schaefer Tray System (STS) solves the problem of each picking and building a stable pallet. The STS racking system is nearly 80 feet high and provides storage space for 90,000 trays.
Matthias Merz is SSI Schaefer's site manager, and he's been heading up the project with ES3 since early 2010, six months before the automation project went live during the summer of 2010.
"What really sets this system apart is layer storage. If the design was a single case system, then the building would have to be considerably larger and less stock would be on hand in the picking machine," explains Merz, who adds that in addition to improving velocity and throughput, the layer system also offers a more compact footprint in terms of the facility size.
At the heart of Schaefer's automation solution is the SPPG, or Schaefer Pack Pattern Generator. The SPPG interprets data from the WMS to build an optimal shipping pallet in the shortest amount of time.
"The entire order is placed into SPPG," says Merz. "It looks at the stock, the order, and then builds the most stable pallet possible—up to 25 percent more dense than pallets packed by humans. It also provides a 3D representation before the pallet is even packed."
The level of sophistication is rather impressive, really. For example, while other vendors offer technology that segregates caustic products from food products by placing them on different pallets, SPPG is able to utilize a single pallet by packing caustic products on the bottom of the pallet and keeping food products separated at the top of the pallet. It also packs pallets with store-friendliness in mind, which makes for more efficient use of time and labor when the pallet is unpacked at the retail store.
According to Merz, SPPG also takes into account crushability and the weight case stacks, both of which further enhance the optimum packing considerations and attest to the computing power inherent in the software. Furthermore, Schaefer uses a picture processing system—Machine Vision Technology—to store critical information on the items in the system, including a product's dimensions, weight, and "look," which are used to file a basic draft of the packing unit in the article database.
Overall, Schaefer designed the SCP on three separate levels to accommodate goods receiving, storage, and goods shipping. Up to 1,300 pallets are received daily into the SSI SCP system, depalletized, and then stored, while 9 robots are used to build up to 74 perfectly designed outbound pallets with 5,350 cases each hour.
"The SPPG software got its debut with the ES3 project," notes Merz. "This was actually our prototype system. About 70 percent of the equipment used at the York, Pennsylvania facility was never used before, which required a certain amount of faith on the part of ES3 because they didn't have an opportunity to see it in action at another facility except at our own Technology Center in Germany."
Reflecting on the scale of the project, particularly on the IT and software side, ES3's Hambleton remarks, "We've been doing 'big data' for 10 years. It's about facilitating the collaboration that allows for optimization. We needed to be able to talk to everybody's systems—Schaefer's, our other suppliers, manufacturers and retailers—and not only use the terminology that these different systems used (SAP, Oracle, etc.), but at the level of aggregation that they expected."
She continues, "Retailers want to see the store data; manufacturers don't, and neither wants to see an invoice at the store level. So we aggregate, disaggregate, and translate—we make everything work. It's pretty complex."
Hambleton takes every opportunity to reinforce the importance of collaboration for ES3 as well as the industry as a whole.
"This is really industry changing, and when you talk about changing the way people think, for instance having their own mixing center versus shared space with competitors, then it takes a while to get past that curve," she says. "The direct-to-consumer piece is helping to drive that change, though. In addition, as companies move forward to take costs out of the supply chain, this is one way to do it. As they try and improve their service level on the shelf, and as they look to improve their sustainability profile, this is one way to do it."
As for the future, "The entire industry is trying to figure out what the consumer is going to want 5 years from now. Ultimately, a collaborative solution that can respond to those new demands is going to be the answer," says Hambleton.
Green from the Ground Up
Stellar is an architecture, engineering, construction and mechanical services firm. A substantial portion of their projects are for those companies in the food and beverage sector, including refrigerated warehouses and distribution centers.
According to Joe Bove, the company's vice president, the marketplace is becoming increasingly focused on projects—both new builds and expansions—that encompass the latest in sustainability.
"We're seeing more interest and willingness among our client base to commit new construction to earn LEED (Leadership in Energy and Environmental Design) certification. For example, better thermal envelopes, which means insulated wall systems are getting thicker and therefore the R-values associated with those walls are higher," he says.
The availability of more sophisticated technology to perform lifecycle and operational analyses is also helping clients understand and appreciate the benefits of LEED certified projects as well as justify the investment. And, to help offset the investment, some communities even offer tax incentives for LEED certified projects, mentions Bove.
At the same time, Building Information Modeling (BIM) software is also assisting firms like Stellar and their clients envision and plan a project during the very initial stages.
"The use of 3D software for building and design allows the engineer and the owner to better visualize what the building will actually look like and how it will operate," explains Bove. "You can actually do a 'fly through' to look at coordination issues and operational efficiencies. From a layout perspective, you can experiment with different forktruck paths and rack storage systems."
For existing structures, Stellar can conduct a thermographic inspection, which is a non-intrusive method of infrared imaging, that can identify uncontrolled heat gain or heat loss.
"We can take thermal scans of a roof, wall, or door, for example, to see how we might make improvements," says Bove.
There are other ways to reduce energy consumption, he adds, including the use of next generation refrigeration control systems that coordinate the evaporator and condenser fans and compressors to optimize efficiency.
In addition, "We've actually designed some refrigeration systems where we've reclaimed condensate water to use in the condenser; essentially recycling water that would have been ordinarily spent," says Bove.
On the equipment side, Bove says more companies are paying attention to the air units (refrigeration evaporators) that they're purchasing. "They're buying ones that are more hygienically designed. The construction is more seamless, and the cabinets better insulated."
According to Steve Golumbeck, senior project manager for design-build firm Ryan Companies, clients are also looking at features such as roller compacted concrete, which is an exterior concrete application that delivers a significant reduction in maintenance costs and the 'heat island' effect. Additionally, low- and no-VOC building materials, including less polluting paints, adhesives, wood products, and sealants are also particularly attractive to clients, especially those whose facilities contain food and beverage products.
Of course, LED lighting is also playing a more significant role in warehouse sustainability. For example, Digital Lumens' Intelligent Lighting System can cut industrial lighting costs by up to 90 percent. Not only is the system easy to install and built for harsh environments, its "smart lights" are wirelessly networked and centrally managed to provide maximum energy efficiency and savings.
Meanwhile, not all advancements aimed at improving overall warehouse sustainability are considered high-tech.
For example, Big Ass Fans has taken something as commonplace as a fan and made it a compelling addition to many companies' strategy to reduce energy consumption. The fans run at a low speed to evenly distribute heat from the ceiling—reducing heating costs by up to 30 percent. In a food facility, they also increase the efficiency of cold storage and improve overall process efficiency.
Adam Hatton, vertical sales manager, notes that, "With our roots in agriculture, we have been able to take our dedication to energy efficient solutions for facility comfort and product integrity through the entire industry chain. Our [fans] improve both productivity and revenue through reduced product loss, reduced condensation, improved process efficiency and employee comfort."
The company's Powerfoil X2.0 Wash Down demonstrates this, he says. "It was developed in direct response to requests from food industry leaders for big fan technology that meets the strictest of standards," such as a UL wet-rated motor for intense cleaning and a gearbox that is completely sealed and filled with food-grade oil.
Companies in this article