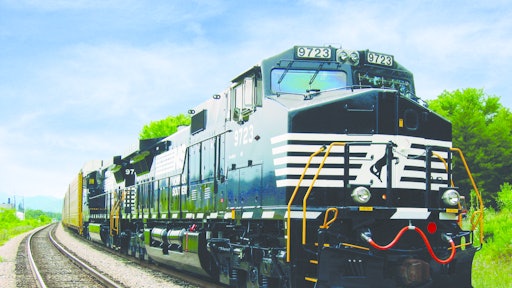 In the past few years, intermodal rail has dramatically boosted its reputation in the minds of supply chain executives. It's no secret that not too long ago, this mode of transportation was the last choice for time-sensitive cargo.
However, so much has changed.
For starters, North America's Class I railroads have made sizeable investments in their networks to keep up with shippers' demands. Since the passage of the Staggers Act in 1980, freight railroads have reinvested $480 billion in private funds to modernize their networks. In 2010, Class I's invested nearly $10 billion in capital funds, while this year the total is expected to rise to $12 billion in capital expenditures. These are big investments, and even more noteworthy in the current economic climate.
In August 2010, Union Pacific opened its Joliet Intermodal Terminal near Chicago. The $370 million, 550-acre facility is focused on moving international freight to and from the U.S. West Coast. Annual lift capacity for intermodal containers is 500,000+. The facility, which operates 24/7, also features state-of-the-art technology, including biometrics and Optical Character Recognition (OCR) for safer, secure, and expedited handling of containers.
Earlier this year, CSX opened its National Gateway—the cornerstone for a new double-stack freight rail corridor between East Coast ports and the Midwest—which is located in northwest Ohio.
The National Gateway is expected to handle a throughput capacity, including block swaps and lifts, of nearly 2 million containers annually. Technologies and green designs, ranging from ultra-efficient electric cranes that lower emissions, to optical scanners that reduce truck idle times, qualify the National Gateway as one of the country's most environmentally friendly and technologically-advanced intermodal terminals. CSX estimates that the National Gateway will eventually convert more than 14 billion highway miles to rail and decrease fuel consumption by nearly 2 billion gallons.
Another key project that launched last year was Norfolk Southern's Heartland Corridor, hailed as one of the most extensive railroad engineering projects in modern times. The project consisted of a public-private partnership between Norfolk Southern, the federal government, and the states of Virginia, West Virginia, and Ohio, which created a double-stack route from the Port of Virginia to Chicago. Vertical clearances on 28 tunnels were raised to accommodate double-stack trains along the entire route, shaving off 250 miles and one entire day from the previous route.
Meanwhile, last month, BNSF released a draft environmental impact report to support its plans for a $500 million Southern California International Gateway (SCIG), which the railroad says will be the greenest intermodal facility in the US.
According to BNSF, the SCIG will allow containers to be loaded onto trains just four miles from the port complex of Los Angeles-Long Beach, instead of travelling 24 miles to the railhead located south of downtown Los Angeles. In addition, SCIG will allow 1.5 million more containers to move by more efficient and environmentally preferred rail through the Alameda Corridor each year, greatly reducing truck traffic congestion in Southern California.
BNSF states this will remove more than 1.5 million truck trips from the freeway every year, and also help improve air quality in the region.
The SCIG will feature wide-span all-electric cranes, ultra-low-emission switching locomotives, and low-emission rail yard equipment.

Railex finds its niche
The steady improvement in the nation's freight rail network prompted Railex, a division of New York-based ADS Management, to initiate a new service targeting produce and temperature-sensitive goods moving from the U.S. West Coast, specifically the Pacific Northwest and Central California, to the East Coast. That was a little over 4 years ago and demand continues to grow, according to Bill Collins, northeast region general manager for Railex.
The transit time is 5 days from either Washington or California to New York.
"Food and beverage is the bulk of our business, both eastbound and westbound," says Collins. Perishable goods from the West Coast, like Washington apples, comprise most of the goods on the eastbound journey, while the backhaul portion includes more finished goods, like yogurt, processed potatoes, and wine, says Collins.
Railex chose Albany, NY for its northeast hub due to its proximity to 5 major cities within 4 hours or less. The northeast hub boasts 225,000 square feet of refrigerated space; 7,400 pallet locations; 10 separate computer controlled temperature zones; 14 enclosed refrigerated rail docks; 41 refrigerated truck docks; and operates a fully integrated RF-enabled warehouse management system.

The company's unit trains consist of 55 new, 64-foot series cars with fresh air exchange, GPS tracking, and temperature control. The satellite controlled refrigerated cars provide constant monitoring of temperature, which can be adjusted along the way, explains Collins. Shipment visibility is also enhanced with the satellite tracking system.

The unit trains are point-to-point, which means there's no switching involved along the way, Collins says. Railex is served by both the UP and CSX.
Railex's success not only depends on reliable service from the railroads, it's a viable alternative to truck transport, says Collins.
"Our platform was designed to address the challenges with the trucking industry," he says. "When you consider the price of fuel alone, we're able to insulate our customers from that volatility."

The fact that rail transport is a fuel efficient, and by extension, more sustainable form of transportation, is fundamental to Railex's operations and environmental commitments. According to the company, each train it operates saves 80 million gallons of diesel and can transport 100 times more goods than 225 cross-country trucks.

In addition, Railex chose Toyota lift trucks to support its operations both for their durability as well as their overall commitment to sustainability. There are 110 Toyota lift trucks at Railex's Schenectady, NY facility and 44 at the Washington facility.

"In our line of work, dealing with perishables, using Toyota's lift trucks we can unload the entire train in 24 hours. Plus, the trucks are durable, which is very important for what we do, and they include added key safety features like seat belts, lights, and warning sounds," says Collins.
The lift trucks are manufactured at Toyota Industrial Equipment Manufacturing, Inc. (TIEM), in Columbus, Indiana, a zero landfill facility.
As a testament to the company's service and growing recognition among produce shippers, last year, U.S. importers of South African citrus utilized Railex to move produce to markets on the West Coast for the first time in over a decade.

"Two thousand ten is the first time in the 11 years we have been exporting to the United States that we will be able to extend our geographic footprint to include the West Coast," said the chairman of the Western Cape Citrus Producers Forum. "An arrangement with Railex will enable retailers to have our fruit available and consumers to enjoy our citrus within six days of leaving the port in Philadelphia."

Railex intends to build on its success by extending into other regions. Last year, the company announced that it was looking to expand service into the Southeast and central U.S.

"We have plans to expand Railex into the Southeast and into the central portion of the United States, and ultimately into Texas and to export," said Paul Esposito, Railex's northeast division and corporate logistics vice president. Although he didn't mention specific cities, Esposito said the company was considering "getting into southern Georgia or northern Florida." Esposito added that Railex is "currently in negotiations and looking at services into the central portion of the United States, either in Chicago, St. Louis, or Memphis."
Companies in this article