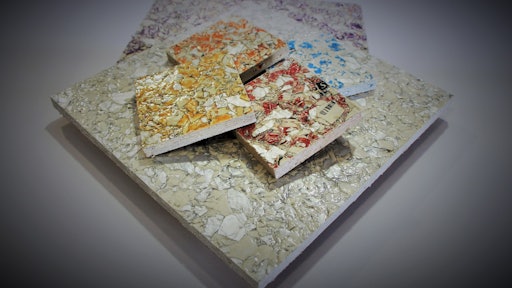 The ReWall Company, which turns recycled food and beverage cartons into environmentally-friendly building materials, is opening a new facility in Colorado that will expand end markets for recycled cartons in the western United States.
ReWall makes high-performance, sustainable building and construction materials out of recycled food and beverage cartons through a proprietary process that uses no chemicals or water. It takes about 400 cartons to produce one sheet of ReWall's hail-resistant roof cover board.
"This expansion reinforces the value in food and beverage carton recycling," says Jason Pelz, vice president of recycling projects for the Carton Council of North America and circular economy director for Tetra Pak. "When cartons are sorted by themselves into Grade #52, the end markets are expanding both in the U.S. and globally."
The Colorado facility is expected to open in April 2019 and, once fully operational, will process about 20 million pounds a year of aseptic and gable top cartons into roof cover board, exterior sheathing, wallboard, floor underlayment and other building materials. Every truckload of finished ReWall products prevents nearly 600,000 cartons from going into landfills.
"This new facility marks a major milestone for ReWall and our efforts to turn cartons into environmentally-friendly building materials,'' says Jan Rayman, founder and CEO of ReWall. "As demand for our products continues to grow, we are excited to open a new end market for cartons in the western part of the country.''
ReWall's Colorado facility was made possible in part by Colorado's Recycling Resources Economic Opportunity (RREP) grant program, which is administered by the Colorado Department of Public Health and Environment (CDPHE) to help incentivize partnerships that promote the state's economy and the environment.