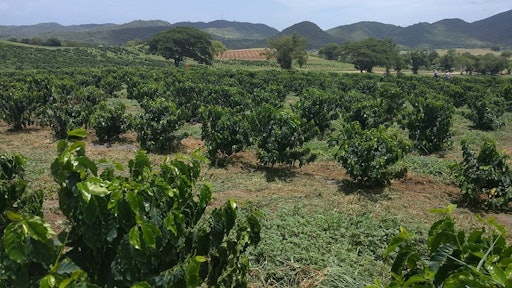 Before Hurricane Maria hit Puerto Rico in September, San Juan restaurant El Departamento de la Comida was known for its sense of community. Chef and owner Tara Rodríguez Besosa and Olga Casellas Badillo served vegetarian and vegan dishes made with ingredients from a tight-knit network of organic, sustainable farms. Locals and tourists alike were drawn to their riffs on traditional Puerto Rican food served alongside dehydrated dragon fruit chips and ginger coconut custard.
Before the hurricane, El Departamento de la Comida had been leading a burgeoning sustainable farming movement, partnering with non-profit organizations to support small farmers and teaching their community how to cook with the produce available to them. The restaurant began a CSA program, creating a market and acting as a middleman between consumers and 15 to 20 sustainable organic farms. Over the past seven years, El Departamento de la Comida moved into a larger warehouse, started a food co-op, and created their beloved restaurant.
Meanwhile, the island's historically weak agricultural development had slowly begun to improve, and chefs like José Enrique championed local ingredients in their restaurants. Puerto Rico imports 85 percent of its food—some of it from neighboring islands that were also devastated by Hurricane Maria—but statistics from late 2016 show employment in agriculture, farm income and land cultivation up 50 percent in the past four years. Some blame the shift on the island's economic recession for forcing Puerto Ricans back into farm work, but Rodríguez Besosa believes that the burgeoning farm-to-table movement is ultimately good for the island's future.
To continue reading the full original article, please click here.