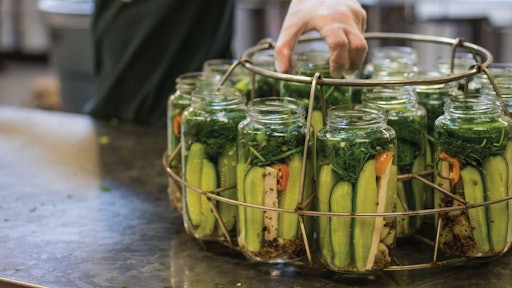 In the early days of The Real Dill, a pickle company that Denver locals Justin Park and Tyler DuBois founded in 2012, the two friends were tossing around 300 pounds of food scraps in the trash every week. Cucumber cutoffs, raw horseradish, peppers–all of it was bagged up and left for the garbage collection rounds.
That did not sit right with DuBois and Park, who, prior to founding The Real Dill, had worked, respectively, in the food industry and the community development nonprofit world, and were attuned to the need to cut back on waste. But the friends had never set out to launch a pickle company in the first place, and its breakneck growth–and resulting piles of leftover produce–caught them off guard.
The duos consciousness of their food waste led to the creation of The Real Dill's Bloody Mary Mix, which they began producing a year after launching and is now their best-selling product. While that product has taken off, it still didn't solve the issue of their other byproduct–the hundreds of pounds of food scraps they were tossing each week. To solve that, Park reached back into his nonprofit roots and connected with Re:Vision, an organization that helps low-income neighborhoods to develop local food systems and community gardens. Re:Vision was in need of more compostable material to increase their yields on their gardens and farms, and offered to collect all of The Real Dill's now approximately 525 pounds of weekly food scraps to put it to use in their projects.
To read the full original article, please click here.