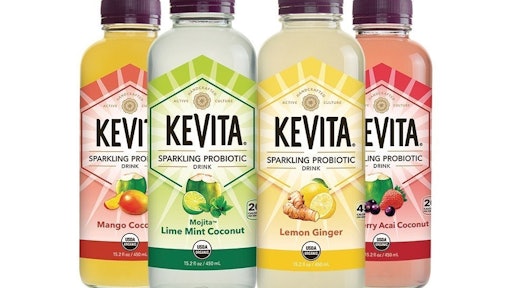 PepsiCo, Inc. announced that it has entered into a definitive agreement to acquire KeVita, a leading North American creator of fermented probiotic and kombucha beverages. The transaction will expand PepsiCo's health and wellness offerings in the premium chilled beverage space.
"I am pleased to welcome KeVita into the PepsiCo family. Under the leadership of CEO Bill Moses, KeVita has become an innovative, high–growth brand that is transforming the functional beverage space," said Chris Lansing, general manager and vice president, PepsiCo Premium Nutrition. "This announcement is further evidence of PepsiCo's focus on delivering Performance with Purpose by continuing to evolve our health and wellness offerings to meet consumers' changing needs."
KeVita is a leader in fermented probiotic and kombucha beverages with three product lines and live probiotics in every bottle. With over two dozen flavors of Sparkling Probiotic Drink, Master Brew Kombucha and Apple Cider Vinegar Tonic, all KeVita drinks are certified organic, non-GMO, gluten-free and vegan. KeVita has a loyal and rapidly growing consumer base in the fast-growing functional beverage space.
"Joining the PepsiCo family will give us an opportunity to extend KeVita's trend-forward beverages to a broader audience, while staying committed to our core values," said Bill Moses, CEO and co-founder of KeVita. "We're looking forward to more consumers experiencing the KeVita brand and to leveraging PepsiCo's marketing and distribution capabilities."
Upon closing, which is subject to regulatory approval, KeVita will continue to operate independently with its production and bottling facilities located in Oxnard, California.