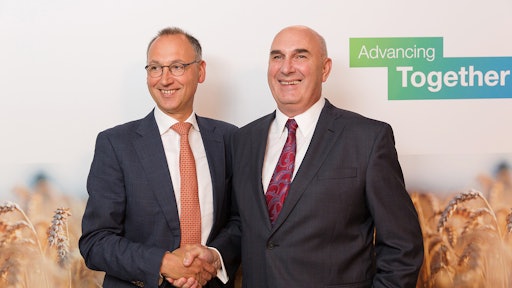 German drug and crop chemical maker Bayer clinched a $66 billion takeover of U.S. seeds company Monsanto on Wednesday, ending months of wrangling with a third sweetened offer that marks the largest all-cash deal on record, according to Reuters.
The $128-a-share deal, up from Bayer's previous offer of $127.50 a share, has emerged as the signature deal in a consolidation race that has roiled the agribusiness sector in recent years, due to shifting weather patterns, intense competition in grain exports and a souring global farm economy.
The proposed merger will likely face an intense and lengthy regulatory process in the United States, Canada, Brazil, the European Union and elsewhere. Hugh Grant, Monsanto's chief executive, said Wednesday the companies will need to file in about 30 jurisdictions for the merger.
If the deal closes, it will create a company commanding more than a quarter of the combined world market for seeds and pesticides in the fast-consolidating farm supplies industry.
To read more, click here.
Editor's Insight: It will be some time before this merger is finalized, given the amount of regulatory scrutiny it faces. Not that it necessarily will be approved.
While all significant mergers are subject to antitrust scrutiny, this acquisition merits even greater concern due to the extensive public concern about biotechnology. Bayer and Monsanto are both leaders in crop biotechnology.
The agriculture industry will also demand scrutiny over an agreement that will give so much control of seeds and pesticides to one company.
The size of this acquisition surpasses that of China National Chemical Corp.'s acquisition of Syngenta AG, announced in March, which has not yet been approved by U.S. regulators. 9-15-16