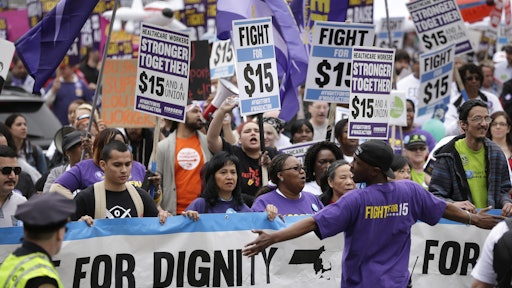 If the minimum wage paid by fast food companies moves to $15 an hour, food prices charged by these companies would rise modestly, according to 24/7wallst.com, an online news source. But if that wage goes to $22, the prices charged would soar as much as 25 percent, as portions dropped by as much as 70 percent. Logically, the number of workers employed by these firms will drop as well, as companies fight to increase margins. Along with that, higher price might cause a drop in store traffic.
According to a study by the Purdue University's School of Hospitality and Tourism Management, raising wages to $15 an hour for limited-service restaurant employees would lead to an estimated 4.3 percent increase in prices at those restaurants. In order to compensate for higher wages, prices would have to increase between 4 percent and 25 percent and/or product size would have to be scaled back between 12 percent and 70 percent.
The odds that the minimum was might go to $22 might seem absurd. However, the odds that the figure would go to $15 were counted as absurd just a few years ago.
http://247wallst.com/economy/2015/07/31/increase-in-minimum-wage-could-rocket-fast-food-prices-higher-by-25/
Editors Insight: Changing labor costs in the food industry will make food supply chain decisions more important than ever for retailers, manufacturers and wholesalers. Political pressure for higher labor pay in the food industry is on the rise. In the short term, this pressure will increase as the U.S. presidential race heats up.
A&P, which recently declared its second bankruptcy in five years, cited unsustainable labor costs in its decision to file for bankruptcy.
New York City recently raised the minimum wage for fast food workers to $15 for companies operating in at least 30 locations nationwide. This is only one high profile development focusing national attention on the topic.
In this scenario, food supply chain experts have an excellent opportunity to educate food companies about the increasing capabilities of automation and robots. Automation and robot technology has been improving and the costs have been declining in many situations. One of the key benefits that automation and robots bring to the food industry is more reliable performance at lower cost. An article in next month's Food Logistics takes a look at evolving robotic capabilities in the supply chain.
Rising labor costs will also change the food supply chain's infrastructure. As food retailers raise prices to cover higher labor costs, those retail formats that are less labor dependent – such as e-commerce – will grab market share from traditional retailers. Hence, e-commerce expansion at the expense of traditional retail will continue in the food industry, By Elliot Maras 7-31-15