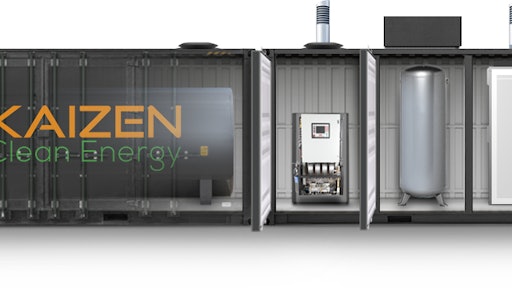 Kaizen Clean Energy
Kaizen Clean Energy (KCE) and ZincFive joined forces to develop an integrated distributed energy solution for electric vehicle (EV) charging, hydrogen fueling and backup power for the grid and critical assets, including data centers.
"We are thrilled to work with ZincFive and PowerCell, whose values of safety, reliability, and environmental stewardship align with KCE's corporate values," says Robert Meaney, co-CEO of KCE. "Integrating ZincFive's immediate power battery electrochemistry and PowerCell's fuel cells with our hydrogen generators enables the optimal power and energy performance in the smallest, safest, most cost-effective footprint to meet a growing industry demand for distributed, safe, reliable and affordable hydrogen and energy."
"Pairing ZincFive's sustainable and high-power nickel-zinc battery solutions with KCE's unique hydrogen generators will significantly reduce the cost of using hydrogen as an energy product," says ZincFive co-founder and CEO Tim Hysell. "With growing demand for distributed power, ZincFive is excited for the opportunities and market interest for an integrated power solution with KCE."
From BusinessWire:
KCE's integrated solution comprises its hydrogen generator, ZincFive's immediate power nickel-zinc batteries and fuel cells from PowerCell to offer modular, scalable, sustainable and economic fueling as a service.
This new microgrid solutions provides increased safety with no risk of battery thermal runaway and small volume of hydrogen stored on site.