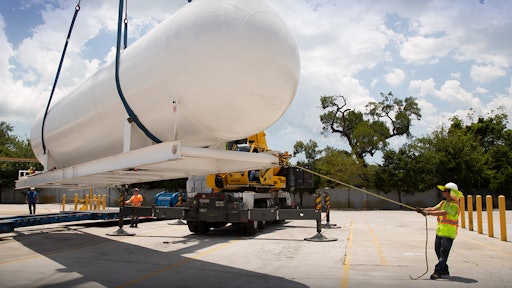 Propane Education & Research Council
The Infrastructure Investment and Jobs Act aims to reduce emissions per dollar by refueling diesel and gasoline fleets with propane and other alternative low-emission fuels. Propane is more cost-efficient than electric vehicles and produces 43 percent fewer greenhouse gas emissions.
"The inclusion of propane is a major win for communities across the country, as fleet owners will have multiple alternative fuel options for reducing emissions and transforming their fleets for the better," Tucker Perkins, president and CEO, the Propane Education & Research Council says. "With propane, fleets can accelerate decarbonization quickly and affordably."
From PR Newswire:
Propane in Transit. Medium-duty paratransit vehicles have the lowest cost of ownership because of low fuel and maintenance costs. With propane, there is a 97 percent reduction in NOx and a 10 percent reduction in CO2 compared with diesel-powered medium-duty vehicles.
Propane in Port Equipment. Propane improves port air quality, fuels low-NOx generators for backup and is the prime power for cold ironing, charging and other large industrial applications. Propane-fueled port tractors produce fewer emissions and cost approximately $200,000 less than electric models, meaning ports can afford to replace more of their fleet and achieve carbon reduction goals faster. Other propane-fueled port equipment includes reach stackers, empty container handlers and rubber-tired gantry cranes.
Propane Dispensers. Propane refueling infrastructure is affordable, scalable and readily available for the nation's alternative fuel corridors. Propane-fueled generators even provide for EV recharging.
Click here to hear more about alternative sources of energy: