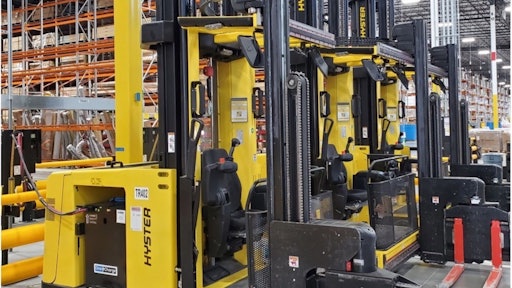 OneCharge
As California pushes for a faster shift toward zero-emission forklifts, the California Air Resources Board (CARB) has proposed a new set of requirements for fleet operators under a broader set of regulations aimed at achieving zero-emission forklifts by 2035. With this proposal, CARB is taking a comprehensive approach to reducing emissions from the industrial sector, which has significant environmental and health impacts.
Under the updated proposed regulation, fleet operators would still not be allowed to purchase new large spark ignition (LSI) forklifts as of 2026. LSI forklifts include all those powered by an internal combustion engine (except diesel-powered forklifts).
This also means that fleets would be subject to a model year-based phase-out, affecting forklifts from model year 2025 and older. Recently, CARB discussed postponing the phase-outs for Class IV and Class V forklifts, which will begin in 2028 and 2030, respectively— not in 2026 as originally proposed. This means that these forklifts will have a 10-year and 13-year lifespan, respectively, before they need to be replaced with zero-emission models.
One of the significant changes in the proposed regulations is that there is no prohibition on fleet operators buying used forklifts from model year 2025 and older, as long as they have not been phased out yet. This provision provides some flexibility for fleet operators, who may not be able to replace all their forklifts immediately. However, fleet operators cannot purchase new LSI forklifts after Jan. 1, 2026.
The proposed regulations also introduce a model year grouping concept, which further delays the phase-out for some model years. For example, an MY2019 Class IV forklift can be kept until 2031, which is a 12-year lifespan instead of the standard 10 years. Similarly, an MY2018 Class V forklift can be kept until 2033, which is a 15-year lifespan instead of the standard 13 years.
What's next?
The proposed regulations will go through a final all-stakeholder workshop before CARB staff prepares the final proposed regulation for presentation to its board members in the fall.