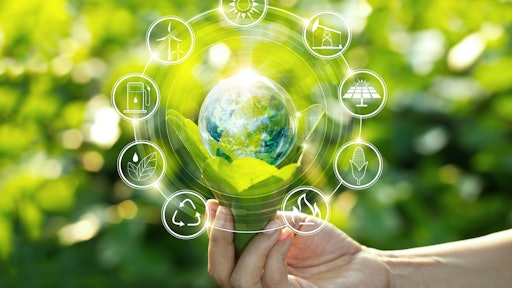 ipopba - stock.adobe.com
At a time when there is an urgent need to act more transparently, organizations across the globe are under mounting pressure to integrate more sustainable practices throughout their supply chains to limit unnecessary waste and conserve the use of resources. Doing so is no easy feat. In a world that is undeniably reliant on expansive, complex supply chains, embedding end-to-end sustainability is a major undertaking. That said, those that do so successfully are likely to create long-term value by better enabling productive and efficient operations.
The evidence is clear that consumers are demanding sustainable products and company actions have a direct influence on consumer spending decisions. For instance, the recent EY Future Consumer Index found that more than 80% of consumer respondents say sustainability is an important factor when deciding which food and beverages to purchase, and nearly half (46%) are prepared to pay more for products produced in a sustainable way. People now expect transparency in how companies operate; those businesses that fail to offer this risk alienating their customers and missing out on the chance to build trust.
Transparent and sustainable supply chains not only create positive impact for organizations' own corporate interests, but also for society and the environment. Here are five ways that organizations can embed sustainability throughout the value chain to reduce waste, increase efficiency and stay ahead of the competition.
1. Ensure sustainable and diverse sourcing
Sustainable sourcing focuses on building trust with stakeholders, building deep supplier relationships, reducing business and reputational risks, and improving productivity in managing sustainability of supplier networks. Coupled together, these factors ultimately drive growth and long-term value for organizations.
However, achieving sustainable and diverse sourcing is easier said than done. There's often a lack of visibility into Tier 2 suppliers and beyond, especially around spend (the amount an organization's suppliers spend to contract their suppliers); a lack of supplier classification into risk tiers so that disruptions and impacts from climate change can be prioritized; myriad (potentially misaligned) stakeholder demands for sustainable processes, products and practices; and growing compliance and regulatory requirements that can add to complexity and risks.
To combat these challenges, organizations should map and track suppliers, facilities and products – right down to raw materials – in order to improve supply chain transparency and traceability. Furthermore, it is helpful to implement continuous monitoring and analytics, including the ability to analyze supplier compliance, KPIs and supply chain risks. Finally, organizations need to focus on inclusive procurement and supplier diversity strategies, which outline an organization's commitment to extending and activating the principles of their diversity, equity and inclusion (DEI) strategy through their supplier ecosystems.
Ultimately, these factors will lead to better informed sourcing decisions that drive an increase in long-term value creation, alignment between the sourcing decisions and the UN's Sustainable Development Goals (SDG), improved communication and collaboration with supplier networks and increased cross-department collaboration.
2. Enable traceability, visibility and disclosure
Enabling traceability and visibility will support companies in meeting the increasingly complex requirements for transparency of extended supply chains. This can be achieved by tracing the origin of materials and products and providing assurance around quality and compliance standard adherence. This in turn will reduce complexity and costs relating to international trade compliance, while supporting the circular economy.
Two of the key challenges that organizations might face here is a lack of visibility into the extended supply chain of third parties and setting traceability and transparency objectives. They should therefore look to develop a sustainability strategy and compliance management framework that enables visibility and traceability, as well as implement dynamic reporting and dashboards that enhance visibility into the risks that vendors pose.
Doing so will enable connectivity between the organization's software-as-a-service (SaaS) solution and vendor reporting tools. This provides transparent and reliable supply chain information to the end customer that increases trust in the brand while lessening reputational damage risk and time, as well as costs associated with international trade compliance.
3. Decarbonize the value chain
Many organizations have committed to decarbonization and announced their ambitions and strategies to become carbon neutral or negative. However, a common issue on the journey to net zero is the lack of real-time visibility, quantification and traceability of data throughout the supply chain, and the unpredictability of climate change impacts.
Activating decarbonization efforts throughout the supply chain in an impactful and sustainable manner can help organizations enhance life-time value and streamline operations. Organizations can make this happen by assessing the business's carbon footprint for emissions, identifying ways to reduce emissions, setting emissions reduction goals, customizing inventory calculation tools and preparing reporting and improving rating scores.
Decarbonization is possible at every stage of the value chain, from sustainable product design to materials sourcing, manufacturing, logistics and disposal management.
4. Introduce circularity into the business model
Circular strategies look at the end-to-end supply chain to determine optimal ways to use more sustainable materials and resources. To achieve this, organizations need to move from linear business models to circular business models with closed material loops. This includes gathering data along the value chain and conducting in-depth analysis to gain an end-to-end view that enables circular market opportunities.
The goal of introducing circularity is to create a product that customers want, using minimal energy and less finite resources for production – aiming to prolong or maintain materials and supplies, and minimize waste at end of life.
5. Assess tax impacts and incentives for a sustainable supply chain
Tax has a key role to play in sustainability. As governments continue to introduce more carbon neutrality pledges and impose a price on carbon emissions, tax and incentives are playing a vital role in driving sustainability initiatives globally.
Aligning an organization's tax profile with its operational footprint can help to minimize the impact of carbon taxes and accelerate the transition to a carbon neutral and circular economy, while optimizing sustainability incentives with a particular focus toward circular supply chains.
A new value chain ecosystem
The days of the cost-optimized, manual, rigid and linear supply chain are gone. Rising in its place are agile, networked and eventually automated ecosystems that are optimized for resilience and sustainability that create long-term value.
Supply chain design is evolving, as the world economic order shifts to a new multipolarity model, climate change impacts increase, consumer behavior changes and disruption intensifies. Few organizations have yet to master total sustainability throughout their value chains. However, those with the visibility and agility to act and react in meaningfully sustainable ways will be positioned for sustained competitive advantage for years to come.