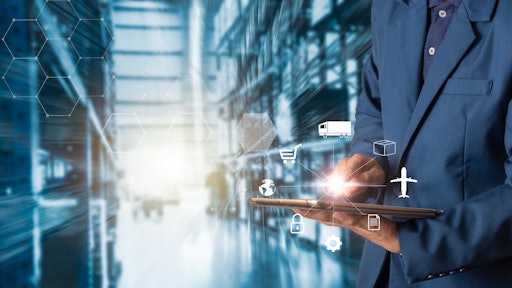 Getty Images
Maintaining a sustainable food chain both upstream and down comes with a host of challenges and opportunities. On one hand, doing so protects people, product and plant, reduces waste, encourages a green economy and ensures the freshest of foods are transported in the safest, most efficient manner possible. Plus, it's just good business practice.
On the other hand though, an aging infrastructure, a rise in grocery e-commerce and an influx in globalized sourcing continue to stress today's cold chains.
So, how can companies continue to keep sustainability top of mind amid a global pandemic and continuous supply chain disruptions?
In Food Logistics' June 2021 issue, editor-in-chief Marina Mayer talks with several industry experts about why sustainable food chains matter and how companies can obtain the supply chain visibility needed to effectively maintain a sustainable food chain.
Here's an interview with Michael Keck, senior director, business development, DHL Supply Chain, with excerpts publishing in Food Logistics' June 2021 issue. [CLICK HERE to read the article in full].
Food Logistics: From your vantage point, what are some of the main sustainability-focused challenges today's cold food chains face?
Michael Keck: No question, the online demand boom for grocers is staggering as shoppers are increasingly relying on online channels for groceries and essential supplies, challenging grocers to prepare their e-commerce capabilities to respond adequately.
As online grocery shopping grows, a greater percentage of fulfillment will have to come from refrigerated warehouses to keep up with demand.
However, the infrastructure has been aging. Older cold storage facilities are less efficient in their use of energy, have less capacity due to lower ceiling heights, and require significant dollars to upgrade. These facts are driving the cold storage providers to look at expansion into new facilities. Building technology and the use of materials to manage the loss of energy will lower the cost of operation and reduce the energy consumption.
This will have a positive impact on the environment as older inefficient cold storage facilities are replaced with the latest technology in energy management. Today's smart sensor technology can update the cooling equipment on where hot spots are in the facility and where the temperature is just right, allowing the equipment to perform more efficiently.
Food Logistics: To piggy-back on this, what are some of the solutions, efforts or initiatives in place to promote sustainable food chains and mitigate waste, etc.
Keck: The acceleration of technology to mitigate waste in the food supply chain has grown exponentially, from software programs that bring together on-hand inventory with point-of-sale data to predict inventory requirements, to robots that are being tested in grocery stores that roam the aisles scanning and taking inventory, preventing over-ordering from the warehouse while also preventing out of stocks.
Additionally, resilience of the supply chain has grown from social platforms integration into software that monitors global events, like the recent blockage in the Suez Canal, a strike at a port or a derailment. When decision-makers have this information at their fingertips, they can make more meaningful and timely adjustments to avoid or mitigate disruption and potentially avoid a spoiled shipment into the distribution channel. DHL's experience with these technologies is one of our great values to the industry.
Food Logistics: Sustainability still matters, even in a global pandemic. Why is this? (Think ESG efforts, renewable energy/packaging, modernization, automation and more).
Keck: Our customers are asking for more sustainable solutions. They want to see warehouses with a lower energy footprint. They want to see transportation provided with lower climate emissions impacts. They want to see the data to understand if one network would be more efficient than another, from an energy and climate perspective. The great news is that we at DHL Supply Chain can help them do that – all the way down to a shipment level.
Digitalization is a huge push for us across warehousing and transportation. Our internal digitalization program advances sustainability by optimizing processes, reducing energy and enabling the application of data to problems never before faced in supply chains.
Advances like robotics process automation and electronic bills of lading, enabled by digitalization, make our operations more efficient, both on the warehouse and transportation side. Artificial intelligence (AI) can move in a direction to predict consumers' purchasing habits, driving inventory positioning and lowering waste.
Food Logistics: How does the Biden Administration's Climate Change Action Plan and re-joining of the Paris Agreement impact the current and future status of sustainable food chains?
Keck: Taking a holistic approach to our nation's food supply chains – assessing the critical risks and opportunities – will help create resilient, diverse and secure supply chains ensuring U.S. economic prosperity.
You cannot improve what you don't measure. DHL Supply Chain has a culture of continuous innovation and a strong commitment to environmental, social and governance (ESG) goals as a corporate citizen of the global economy.
DHL has publicly made commitments aligned to the UN Global Sustainability Goals and committed $7 billion euros of investment through 2030 to reduce our CO2 footprint. Our team members and our customers are excited that DHL is closely aligned to their personal and business objectives in sustainability, social inclusion and diversity and governance.
Food Logistics: What should companies in the cold food and beverage space do to achieve sustainable food chains? Where do they start if they haven't done so already?
Keck: Capital investment in automation is where everyone's mind goes first, but you need to consider, as in all investments, how do we achieve the expected ROI?
As operators of automation, DHL Supply Chain knows that volume throughput is the key. Grocers are recognizing that their customer interface technology platform is the next differentiator. Grocers will invest heavily in digital to achieve the personal shopping experience with the objective to drive volume into their automation and thus proving out the ROI. The "demand and cost" question, simply put, is to push demand through your capital investment so the per transaction costs are driven down.
Food Logistics: What kinds of technologies/solutions (i.e., Internet of Things, automation, etc.) is your company investing in and why?
Keck: We strongly believe that technology holds the key to boosting productivity, increasing efficiency, and giving our customers better visibility and agility. As part of our commitment to continuous innovation for our customers, DHL Supply Chain is investing more than $300 million in emerging technologies in North America alone. We're focused on harnessing the power of technologies like AI, collaborative robots, robotic process automation and autonomous vehicles to help boost our customers' business.
Food Logistics: What does the future of sustainable food chains look like? Any risks/rewards?
Keck: With increasing demand for home deliveries in the future, the logistics industry must develop and adopt new strategies and operational models to build resilience.
With continuous improvement, risk can be managed, reduced or eliminated. Rewards require a definition, so we can measure our progress toward the reward.
The supply chain community will continue to add resilience to prevent failure. The responsible actions that ensure this is done with a sustainable mindset is critical.
AI, machine learning and software predictive analytics will drive value in the food supply chain. Knowing data like when, where and how much has the benefit of lowering costs, waste and increasing the value to the end user.
At DHL Supply Chain, we embrace innovation – especially in all things digital. An integrated approach that considers operational capabilities and technology innovation will be a critical enabler to continue to deliver the great customer experiences consumers are seeking post-pandemic.
Food Logistics: What are some things not addressed above that may be pertinent to our readers?
Keck: The food supply is one example we are discussing, but the broader question is around how our entire society can benefit. As the world's leading logistics company, it is DHL's responsibility to move ahead and lead the logistics industry into a sustainable future. This shift to being more sustainable presents opportunities to reduce costs and grow business, and it is also the right thing to do for ourselves, our families and our global community.