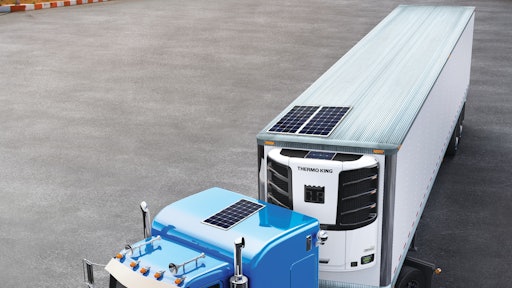 Thermo King
Batteries in the transportation market are being asked to do more than ever before. With new anti-idling legislation in conjunction with the need for continuous asset tracking, liftgate support and power delivery lights, battery life is being increasingly challenged.
It's not uncommon for a driver to have to jump start their truck after a long weekend, or for a fleet manager to find themselves routinely replacing batteries to ensure the engine starts and the liftgate works.
One of the best ways to significantly improve battery life is by incorporating solar power.
Solar power offsets the parasitic power loads of devices like inverters and GPS trackers that are always on in the background — even when devices seem inactive. The main problem with this type of power load is that it drains the vehicle batteries to levels that both hinder starting capability and significantly shorten battery life. Solar power prevents these harmful battery discharges by providing a consistent charge that offsets the parasitic power loads.
Solar panel evaluation features
Solar panels were originally designed for residential and commercial applications. Only in recent years has transportation-rated solar panels been available in the market. Solar panels designed for the transportation market are not a one size fits all purchase. When determining if incorporating solar power is the right decision, there are a number of features you should evaluate before making a purchase.
1. Efficiency and degradation
It's important to think about the efficiency and degradation for each type of solar cell available in the transportation market. As you can see from list below, each type of solar cell has a different efficiency level and degradation percentage. Because solar panels will degrade over time and will not output the same amount of power on day one as on day 3,650, selecting the solar cells that provide the amount of power needed for the life of your equipment is important. Here is how each type of solar cell differs in efficiency levels and degradation:
· Monocrystalline
§ Efficiency: 22%
§ Degradations: 20% output loss after 20 years
· Amorphous Silicon
§ Efficiency: 6%
§ Degradation: 100% output loss after 12 years
· CIGS (Cooper Indium Gallium Selenide)
§ Efficiency: 13%
§ Degradation: 100% output loss after 10 years
· PolyCrystalline
§ Efficiency: 16%
§ Degradation: 20% output loss after 10 years
2. Panel construction
As you drive around a residential neighborhood or near a solar farm, you will notice that the solar panels are constructed with glass tops. Glass is used in these applications because it's durable when stationary and the heavy weight of the glass does not create performance problems. For application in the transportation market, solar panels need to have a lightweight, flexible, and thin design, and be resistant to scrapes and damage from debris. Instead of having a glass top, solar panels used on vehicles should have a laminate top. When evaluating the type of laminate on top of a solar panel, it's important to determine if the laminate will withstand the types of environments it will be exposed to over time and still be able to protect the solar cells and internal connections of the system. If the laminate is rough, it will hold onto dirt, which will impact the energy output of the solar cells. A smooth laminate stays cleaner longer and has the capabilities to self-wash itself with a rain shower.
Additional construction features to evaluate include operational temperature extremes, corrosion testing, high velocity wind and rain testing, pressure wash testing and hail impact testing.
3. Mounting
There are two different ways a solar panel can be mounted. A panel that has to be mechanically mounted requires holes to be drilled into the equipment. This can potentially lead to water leakage, rust and corrosion. A panel that has adhesive on the back can be mounted without the need for drilling holes.
4. Connections
When used in transportation, solar panels experience road vibration and environmental exposure to dirt and water. When thinking about the connections that are used, it's important to evaluate if they will be able to withstand these conditions and avoid problems such as water ingression and corrosion.
5. Junction boxes
It's important to think about and evaluate the profile of the junction boxes. Look for a junction box with rounded edges and a flat profile. This type of design keeps the junction box from being ripped off easily. Construction of the junction boxes also impacts whether or not water ingression, corrosion, and connection failure inside the box occurs.
6. Charge controller
When comparing solar panels, evaluate if your system and the charge controller has the electrical protections required to handle high voltage jumpstarts and damaging power surges from alternators and motors. If your electrical system, which includes the charge controller, can't handle the electrical load environment, then it's likely to have a shortened life in comparison to your needs.
7. Cabling
When mounting a solar panel, cabling is used to connect the panel down to the battery. It's important to think about if the cable is able to handle the transportation environment. Look for double jacketed and chaff protection features to help the cable withstand the outdoor transportation environment.
Solar power is no longer a technology meant only for the roof of a home or in a field. Now is the time to explore how selecting the right solar panel for your fleet can eliminate battery costs, increase fuel savings and ease operational pain.