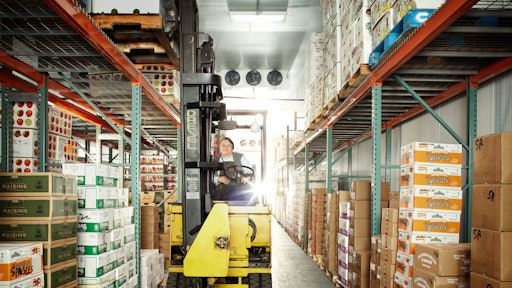 San Francisco-based Veritable Vegetable (VV), a women-led business in operation since 1974 and the oldest organic produce distribution company in the country, is a testament to its unique business model: a deep commitment to sustainability, and a ton of determination. Committed to operating on a set of core values, Veritable Vegetable takes a radically different approach to almost everything it does. 
VV was founded in the early 1970s to help create an alternative to the existing food system—one that gave organic farmers access to a rewarding marketplace, and customers the knowledge of where their food came from. Its commitment to the environment was baked into the company's DNA from the onset, as was its deep belief in social equity and systems change.
Though VV has grown and evolved in its 45 years of existence, the company's commitment to sustainability has not wavered. From the company's award-winning near-zero emission fleet of trucks, to its ability to landfill only 1 percent of the waste it produces, to its impressive 560-panel solar array offsetting over a quarter of the company's energy, its environmental focus runs deep.
The company is committed to serving its community too, by starting its staff at 25 percent above Bay Area living wage, paying its farmers fairly, offering training to women for positions traditionally held by men, maintaining a 4:1 pay ratio between CEO and entry-level workers, and providing over-the-top benefits like weekly in-house massages, boot reimbursements and Cadillac health insurance.
There aren't too many companies that can honestly demonstrate their ability to make their core values come to life. Next time you find yourself in San Francisco, don't forget to stop by for a tour if you really want to see sustainability in action.