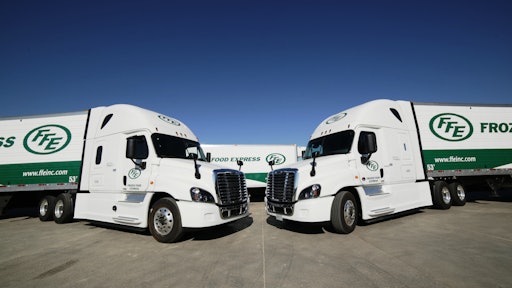 Businesses exist to generate a profit. At the same time, many businesses are serious about corporate social responsibility and sustainability and have successfully incorporated these values into their culture and operations. In turn, these efforts positively impact the bottom line, which makes for a win-win situation.
Sustainability in the food supply chain is a good example. Farmers and food producers know full well the symbiotic relationship between environmental stewardship and food production. Clean water, nutrient-rich soil and mitigating the effects of climate change are fundamental to their business survival.
The grocery industry and its logistics providers, meanwhile, have historically operated on thin margins, which provides an obvious incentive for these collective stakeholders to continually look for opportunities to operate more efficiently, more productively, and by extension, more sustainably.
William Salter, CEO and president of Paragon Software Systems, a provider of vehicle routing and scheduling optimization solutions, acknowledges the occasional paradox with regards to sustainability in the transportation sector.
"A lot of the spinoff from using routing and scheduling, and the products around them, do fit quite nicely into helping companies to be greener, whether that's their original intention or not," he says.
Salter has seen sustainability—and the results it can yield—evolve over the years, in the industry at large and with Paragon's own customers.
In order to maximize the results from routing and scheduling solutions, "it starts with making sure that you've got the right data set up in the system in the first place, so that you're planning routes that are realistic and achievable" he says. "It requires discipline to set up the system properly and take into account variables such as the road network, how long it takes to make a delivery at each drop point and other critical pieces of information."
Many companies take additional steps, like tracking the routes as they're being executed and making sure drivers are closely adhering to the planned routes.
"You can also set up a system to monitor driver behavior to find out if they are braking too hard, speeding or leaving the vehicle idling for too long," Salter says, all of which when optimized will contribute to a more efficient and sustainable operation.
Although sustainability alone is not driving interest in routing and scheduling solutions, admits Salter, he emphasizes that companies are focused on taking costs out of their distribution operation.
"They want to meet ever increasing demands for higher levels of customer service, without adding a huge amount of additional cost to the bottom line," he explains.
Meanwhile, Salter is seeing more companies evaluate their vehicle fleets and think about where alternative fuel vehicles like electric hybrid or hydrogen-powered vehicles might fit in to their operations.
In some cases, legislation and stricter emissions regulations are the main driver behind companies' efforts to invest in more fuel-efficient fleets. Salter mentions London's Ultra-Low Emission Zone (ULEZ), which is scheduled to start operating in April 2019, as an example. The ULEZ will tighten restrictions on cars, trucks and motorbikes in a bid to address London's lethal air pollution and deter the use of older, high-polluting vehicles.
Other developments are also pushing companies to adopt routing and scheduling solutions—namely, e-commerce and home delivery. The proliferation of direct-to-consumer deliveries means more vehicles and more congestion on the roads.
"Vehicle routing, scheduling and planning systems are ideal for working out the impact [of e-commerce] and for deciding what kind of trucks are best to handle the different parts of that type of distribution," says Salter.
Indeed, the impact of e-commerce and home delivery are forcing city planners, logistics companies and retailers to consider options like staging posts at strategic locations in and around cities to facilitate customer pickups at centralized spots. Salter says companies may soon find themselves cooperating more and more with each other to accommodate the growth in e-commerce and the challenges associated with delivery goods to the end consumer.
Companies in this article