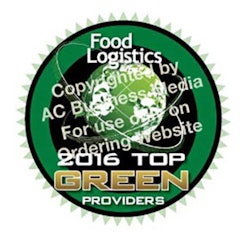 The 2016 Food Logistics Top Green Providers List, published in the June Food Logistics, demonstrates that sustainability continues to be a driving force for nearly every type of business today. For companies in the food and beverage sector, taking an active role in promoting sustainability throughout their operations is crucial considering the urgency to reduce the food chain's carbon footprint and preserve the already thin profit margins.
The annual Top Green Providers list offers logistics professionals a guide to the providers, manufacturers and software and technology companies that have found new ways to promote sustainability throughout their operations and those of their customers.
This year's list consists of transportation providers, 3PLs, cold storage providers, technology companies, pallet manufacturers and many others who have stepped to the front to become the leaders in supporting a more sustainable global food supply chain.
To see the entire list of all of the 2016 Top Green Providers and their capabilities, click here.
Editors Insight: This year's Top Green Providers List added 35 percent more companies over last year's list, demonstrating the food supply chain's commitment to sustainability. The investment the food and beverage industry has made in these initiatives reflects the positive role the industry has taken in expanding the availability of food in a sustainable manner. The investment also shows that sustainability has become a competitive advantage in today's food and beverage industry.
A review the sustainability activities of the companies on this year's list indicates that sustainability has become a consideration of nearly every aspect of today's food supply chain. Software companies have developed tools to improve supply chain visibility and provide reports that enable companies to accomplish tasks faster with less labor and energy use. Transportation, warehousing and retailing have all become more sustainable.
The Top Green Providers List provides an important tool for food and beverage companies seeking to achieve sustainability goals. 6-30-16 By Elliot Maras
viders List provides an important tool for food and beverage companies seeking to achieve sustainability goals. 6-30-16 By Elliot Maras