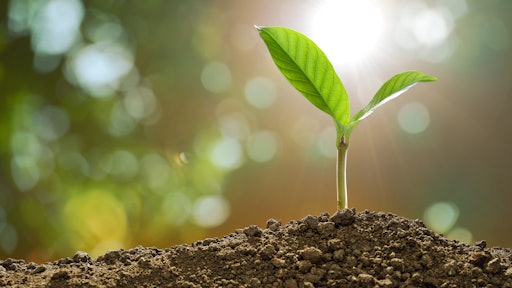 Getty Images
When it comes to cutting carbon emissions, it's an urgent, all-hands-on-deck situation. As the federal government's long-term strategy articulates, "the globe is headed toward climate disaster unless net-zero global emissions is achieved by mid-century." The threat is stark, and the need is clear.
Agriculture should be a priority, not only because it represents a significant source of emissions –approximately 30% of all carbon emissions globally– but because of its reach. Farming plays a massive role in the global economy and is woven into the social fabric of communities across the world. It is an industry most susceptible to the direct impacts of climate change. Farmers have an imperative to implement sustainable practices, which ultimately help protect their land, their business, and their future. Unfortunately, not all farmers have the resources to join the carbon fight.
Sectors within agriculture, including large commodity crops such as soy or wheat, have greater access to technology and tools that support sustainable farming practices and efforts to reduce emissions. The size of their growing operations support larger investments in environmental, social and governance (ESG) measures and participation in voluntary carbon markets.
As farmers implement sustainable practices, they can generate carbon offsets – or reductions of greenhouse gas emissions, measured by the metric ton. These carbon offsets can be used as a means of mitigating the farm's own carbon footprint or sold in a voluntary market to another organization seeking to mitigate its footprint.
Farmers use carbon offsets to finance more sustainable tools and practices, which can increase product quality and yield for farmers. These practices can have a ripple effect, not only opening increased economic opportunities for the farmer, but creating a safer working environment and ultimately supporting a cleaner, more vibrant planet for all.
That's all to the good, but there's a catch.
Small and medium farmers have largely been left out of the lucrative opportunities posed by voluntary carbon markets, which are estimated to reach $50 billion in value by 2030. That includes farmers who comprise the $1.3 trillion global produce sector, many of whom are willing – and eager – to participate if they had proper guidance and resources.
In fact, a recent feasibility study, revealed that produce growers were well poised to become participants in the global carbon market as they were already performing several of the sustainable practices needed to achieve full decarbonization. The architects and investors of carbon markets have found the complexity of highly perishable food a challenge and to produce farmers into the fold. However, with the proper roadmap and support, growers can implement additional carbon-smart practices to meet the rigorous international standards of carbon verification.
There is a need to create more specialized resources for produce farmers. Carbon markets represent a pathway to a more profitable sustainable agricultural sector and produce growers should be an integral part of those efforts. The agricultural sector holds a great potential for being a cost-effective mitigation strategy for climate change, increasing productivity and enhancing resilience.
The ability to harness this potential will depend on our ability to continue developing new specialized technologies and strategies for the produce industry—rather than retrofit solutions from other sectors that are not built to address the unique complexities and challenges of the produce sector and supply chain.
Instead of sidelining produce farmers, we need to bring them to the frontlines of carbon markets, opening the opportunity to make vital revenue and create a more resilient future – all while participating in the global effort to mitigate climate change.