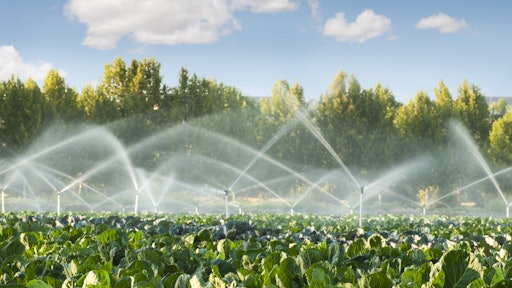 Deyan Georgiev - stock.adobe.com
British writer and poet James Allen once said, "The law of the harvest is to reap more than you sow."
The ability for a produce farmer to realize the rewards of a successful yield extends way beyond preparing the soil, watering the plants, cultivating the crops and harvesting at the right time. The challenges surrounding getting fresh produce from source to destination before spoilage occurs are plenty -- specialized handling and packaging, fluctuating transportation costs and labor shortages, to name a few. In fact, 20 billion pounds of produce is lost on farms every year.
As such, it's crucial for farmers, during the busy harvest time, to be prepared to efficiently move their crops from farm to retailer to table. Effectively managing the logistics around pallets and containers can make or break an efficient supply chain, particularly in the produce industry where goods have a short shelf life and can be rendered inedible if one link in the supply chain is missing.
To help prevent this from happening, farmers are increasingly taking advantage of programs allowing them to store pallets in their fields and facilities. This ensures that when harvest time arrives, they ship the fruits of their labor to retailers at the perfect time and in the perfect condition for consumer consumption.
Preparation is key when picking time arrives
Mother Nature has a way of disrupting the best laid plans, affecting the ability to forecast the optimal time for harvesting crops. Unseasonably rainy, dry, warm or cold weather can accelerate or decelerate the busy harvest season. And if farmers are unprepared for a last-minute sizzling hot spell with lots of rain, for instance, they might not be able to get a bumper crop of produce to retailers on time.
However, innovations in customer storage streamlines the entire harvest-to-market process, helping farmers reduce costs, stress and late deliveries. Storing pallets or corrugated containers in their warehouses or facilities enables them to better prepare for harvest. Similarly, by estimating how many trucks will be needed and reserving them in advance, expensive rush orders for transportation can be avoided. With pallets on site and transportation lined up, field workers aren't waiting around to harvest crops, so farmers avoid paying for idle time.
Foresight helps decrease costs, increase profits
Conversely, when farmers wait until the last minute to order transportation, pallets and corrugated containers, costs skyrocket while profits plummet. The inability to correctly forecast resorts to stressful and expensive emergency orders. For instance, if a bumper crop is ready for reaping but transportation is not lined up, farmers may resort to ordering hundreds of trucks overnight – oftentimes coming from afar. Obviously, the longer the drive to the farm and the shorter the lead time, the higher the cost, CO2 emissions and profit loss.
Plus, if not adequately prepared for the yield, produce could be left sitting in the fields or warehouses. And if it arrives past its prime, a farmer's reputation suffers and retailers could decide to get their produce from the competition.
Innovation readiness yields greater results
Streamlining initiatives that take costs out of the supply chain enables produce farmers to have more successful harvests. They also know the importance of having open lines of communication between their supply chain partners, including vendors, container providers and transportation companies.
Additionally, many of today's fresh supply chain leaders are open to trying newer and more innovate programs, like storing pallets on site in preparation for harvest or bringing in a partner to help with transportation needs. They are always asking, what improvements can we make for next time to be more successful? What worked and what didn't? Being open to change can greatly improve business.
Lastly, it allows them to reap more than they sow.