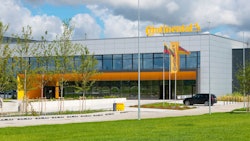 Content brought to you in partnership with GoRamp.
Quickening the pace of technology adoption in this competitive environment is probably one of the most important steps companies should make to improve their warehouse and distribution center efficiencies.
Continental Lithuania - a division of German automotive technology pioneers - is always looking for cutting edge technological solutions. Recently, they have greatly improved their inbound / outbound logistics visibility by implementing time slot management automation and a dock scheduling system.
Justinas Liekis, Transport Manager at Continental Lithuania, shares his success story and how they used one tool to:
Automate communications
Get rid of the spreadsheets
Forget about unplanned arrivals to the warehouse
Eliminate queues
Reduce driver waiting time
Track their gate performance
Improve planning
Increase load capacity
Ensure smoothness and security of their site
And more!