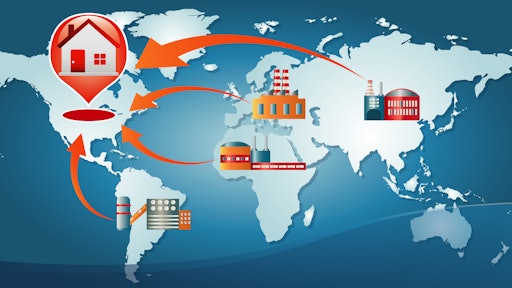 melita - stock.adobe.com
IntelliTrans introduced the Global Supply Chain Visibility Platform for ocean shipments, which combines truck, rail, barge and now ocean freight, so shippers can plan, book, execute and track ocean shipments all in one place.
"The ocean freight industry struggles with lost containers, congested ports, shipping container shortages, rising freight rates, lack of carrier capacity and crew shortages," says Bernard Cohen, senior product manager, IntelliTrans. "Ocean shipments are slower than other modes yet offer significant sustainability benefits while also delivering a lower cost per unit. For these reasons and more, shippers are leveraging ocean freight as supply chains suffer from fluctuations in supply and demand, increasing operating costs and diminishing bottom line profits."
From GlobeNewswire:
Ocean schedules enable planners to determine the best route option. The platform returns all possible options with available transit dates, estimated arrival times, voyage information and terminal information so that planners can pick the best lane with confidence.

Container tracking captures future critical events when importing containers, allowing shippers to easily tender a truck and have the shipment picked up on time.

IntelliTrans

Open Message Systems Interface (OMSI) support connects virtually any transportation management system (TMS), enterprise resource planning (ERP) and third-party providers, enabling shippers to have visibility from a purchase order number and other essential reference numbers or information.
"The IntelliTrans Global Supply Chain Visibility Platform (GVP) for ocean helps shippers and carriers meet the overwhelming challenges associated with ocean freight," says Ken Sherman, president, IntelliTrans. "While some vendors only provide a tracking platform, IntelliTrans realizes that shippers' challenges demand a more robust solution that actually helps them book and execute. That's why IntelliTrans is proud to develop a complete tracking. booking and execution platform that becomes the integrated command center for a shipper's transportation logistics needs. Our GVP provides visibility for any mode – ocean, truck, barge or rail."