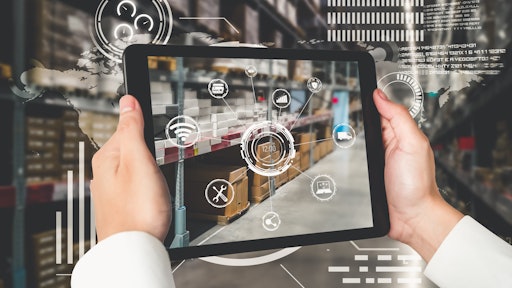 Blue Planet Studio AdobeStock_418466083
From enhancing visibility, building resiliency and mitigating risk to leveraging smart technologies and automated software, a digital supply chain means different things to different companies.
Yet, digitization itself presents the same benefits across the board in moving temperature-controlled foods in a safe and efficient manner.
Marina Mayer, Editor-in-Chief of Food Logistics and Supply & Demand Chain Executive, talks exclusively with Jacob Olson, director, manufacturing solutions, Cleo, about how cloud-based ecosystem integration systems bring together end-to-end integration visibility across API, EDI and non-EDI integrations.
CLICK HERE to read the article in full.
Food Logistics: What is a digital supply chain? What does it mean for you/the cold food chain?
Jacob Olson: A digital supply chain uses digital technologies and ecosystem integration to digitally connect all the systems, partners, customers and suppliers across an enterprise's supply chain network.
In the cold food chain, a connected digital supply chain helps companies determine potential threats to the business and product, determine hazard origins through tracing, accurately forecast demand to minimize waste and optimize inventory, and continue to ensure only the best product makes its way to the consumers. Further, connected systems help companies in the cold food chain to dynamically handle partner relationships among suppliers, logistics partners and warehousing providers to prevent any delays or unforeseen issues. The ability to quickly onboard and move between various partners in the cold food chain for these different processes is the key to supply chain agility.
Food Logistics: Describe some technologies and solutions defining the future of digital supply chains.
Olson: Ecosystem integration and cloud technology support the supply chain, providing companies with an easy way to manage all their business processes. Instead of relying on outdated and legacy systems, a modernized and centralized "ecosystem-first" integration platform allows companies to better care for the members of their digital ecosystem, from customers to trading partners. In addition, by connecting legacy systems to the cloud, supply chain organizations can leverage cloud technology without compromising valuable on-premise systems into which they have poured countless resources.
Cloud-based ecosystem integration systems bring together end-to-end integration visibility across API, electronic data interchange (EDI) and non-EDI integrations. Technical and business users can gain confidence to rapidly onboard trading partners, enable integration between applications, and accelerate revenue-generating business processes. Additionally, organizations have the choice of self-service, managed services, or a blended approach, ensuring complete flexibility and control over their B2B integration strategy.
Food Logistics: Where to start? How do companies start the journey toward a more digital supply chain? Outline some good first steps.
Olson: While it may be impossible to eliminate all manual processes, it is important to minimize friction where possible to compete in an increasingly digital world and meet rising customer expectations. Some steps toward automating and digitalizing supply chains include:
1. Determine the goal. Before getting started, all departments and lines of business need to align with the goals and objectives from a digital transformation strategy. Enterprises must define what it is they want to accomplish through a digital supply chain, especially in terms of customer experience and engagement.
2. Examine the company's existing environment. It's critical for enterprises to have a firm understanding of what their current environment looks like, from legacy systems and applications to their order-to-cash and procure-to-pay business processes. From there, it becomes easier to identify the gaps that digital transformation mechanisms can improve.
3. Review options and pick the solution. There are so many potential tools on the market for an enterprise to use to enable digital transformation, but a modern integration platform will play a critical role in any IT modernization and transformation strategy. However, not all integration tools are created equal. Enterprises must conduct a thorough review of the potential solutions and vendors to ensure their needs align with what the vendor can offer.
4. Select a modern integration platform. The right integration platform that prioritizes ecosystem enablement will provide enterprises with an array of technology and process benefits to improve business and provide a better experience for customers. Enterprises must constantly evolve, and a centralized integration platform enables companies to do just that. Integration tools eliminate the complexity of end-to-end integration with a modern cloud integration platform that connects B2B data flows, applications and data across a company's entire ecosystem and drives complex digital transformation efforts.
CLICK HERE to read the "Breaking Down the Digital Supply Chain" article in full.
Food Logistics: What sectors (i.e., agriculture, frozen foods, etc.) are more impacted/affected by digitalization than others and why?
Olson: All sectors of the food and beverage industry are heavily impacted, but frozen foods pose unique risks due to storage and handling requirements. From the farms to the production line, all the way to the suppliers and distributors, there are many areas of the supply chain process that touch food and can pose potential health hazards if they aren't adhering to those requirements.
Food Logistics: From food production to the retail and/or foodservice outlet, how does a digital supply chain transform the way food is moved from Point A to Point B? This could also entail fleet, warehousing etc.
Olson: By connecting both internal and multi-enterprise systems and removing manual and often inaccurate data collection, a digital supply chain enables digitized data and helps businesses meet customer demand.
Additionally, digital supply chains provide businesses with greater visibility, predictability and traceability into all steps of the process. Orders and inventory can be more accurate, and businesses can easily see where their products originate from, as well as where and when they're going. There's no guesswork about how many more products will need to be ordered because a business will have certainty about when the product will arrive. In a recall scenario, digital supply chains are especially helpful as it's easy to track any shipment back to the offending source to quickly remove any harmful products from shelves and remedy the issues at that point in the supply chain.
Food Logistics: Describe some other trends and challenges with regards to digital supply chains.
Olson: One challenge of the digital supply chain is that there is more data than ever to collect as companies continue to implement more platforms and systems into their business processes. While data is extremely useful when making business decisions, the increase in applications and platforms also means the data is spread across various locations. This requires users to hop between software solutions to find and compile data, which is a time-consuming and tedious process. While ecosystem integration can help, some companies find it difficult to break away from manual processes that often persist because of legacy bottlenecks. In other words, organizations continue manual processes simply because "that's the way we've always done it."
The major benefit that organizations are realizing through the digital supply chain is improved management of supplier and customer relationships and internal process performance using service level agreement (SLA) and key performance indicator (KPI) tracking and partner scorecarding. These measurables are uniquely unlocked when processes are digitized and an ecosystem of integrations is centralized. By taking a strategic approach to digitizing their supply chain, businesses are able to achieve far greater predictability in their key business processes and gain the ability to be proactive in solving issues before they become problems.
Food Logistics: What are some things not addressed above that may be pertinent to our readers?
Olson: End-to-end automation and consolidation of all EDI, API and non-EDI integrations onto a single platform is crucial to stay ahead of business challenges and dynamically handle partner relationships in the cold food industry. By connecting the entire ecosystem of partners and suppliers through automation, companies can determine potential threats to the business and product, determine hazard origins and continue to ensure only the best product makes its way to the consumers. Additionally, the ability to quickly onboard and move between various partners for these different processes is key to digital supply chain agility. In short, such improvements accelerate business by increasing the velocity of the dollar to drive more revenue and improve profitability.
CLICK HERE to read the article in full.