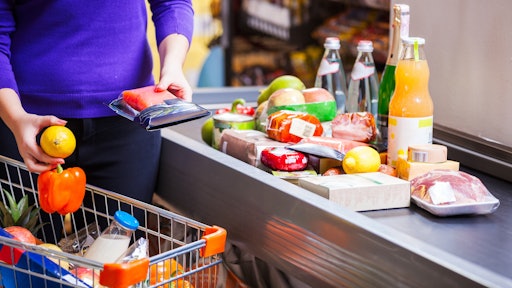 Andrey Bandurenko - stock.adobe.com
Continuing inflation, labor shortages, food product instability and supply chain delays are all playing a part in the skyrocketing prices in the food industry.
In the past year, prices for gasoline, consumer goods and food products have risen steadily, causing angst among American shoppers. The latest Consumer Price Index figures showed an overall 8.6% rise in May 2022 from May 2021. Food prices in particular rose an average 10% in that same annual period, with a 12% increase in prices for 'food-at-home' (grocery store purchases) and a 7% increase in "food-away-from-home" (restaurant purchases).
The response from American consumers? To spend less. The high prices are forcing Americans to cut back on buying a variety of goods, according to the latest U.S. consumer spending report.
Global food challenges
For consumer packaged goods (CPG) companies and food producers trying to accurately predict demand and manage their forecasting, it's tough going. Certainly, these firms already had to rethink their strategies and offerings during the pandemic as food purchases shifted away from restaurants. There was tighter decision-making around planning, sourcing and inventory. Filling orders and managing logistics became top priorities.
But new supply chain delays in shipping goods have contributed to empty grocery store shelves for select items. This is on top of unpredictable shortages of raw ingredients (oats, corn, wheat, rye and barley) for staples like bread, cereal and even beer.
Add to these challenges the struggle to accurately forecast demand among consumers who are buying less and just trying to keep their gas tank filled. It's a lot for CPG and food and beverage companies to manage. They need help, and data-driven intelligence is the answer.
Seeking data intelligence
As the nature of global supply chains have changed, CPG companies must adapt as well. And do so by using shared supply chain data for real-time insights. Kearney notes in a new report that inefficient supply chain optimization could potentially cost CPGs up to $800 billion in top-line growth.
When a CPG firm understands and optimizes this key data, it can move swiftly to counter topsy-turvy market moves of product shortages and surges. Having this knowledge will assist in more fully understanding patterns in customer demand, which will lead to reducing risk and lowering penalties. These key data points can prepare CPG and food and beverage companies for any potential disruption ahead of a crisis.
MRO for CPG and F&B
It's time now to integrate intelligence for maintenance, repair and operations (MRO) into CPG and food and beverage companies. Having this data ensures that customers will receive accurate, timely shipments to meet demand. Having a strong MRO strategy in place gives protection to companies to withstand shortages, delays or product surges.
Businesses must not overlook this opportunity to increase cash flow and improve agility. Improving MRO data across multiple regions will reduce costs, boost maintenance productivity and optimize procurement. Plus, CPG companies and food and beverage operations can work together with suppliers and distributors for stronger organizational alignment.
Companies harmonizing MRO inventory data with artificial intelligence (AI)-driven tools and cloud technology will be the ultimate winners in this uncertain economic market. It's a smarter way to minimize costs and build a more robust "market disruption" strategy. AI tools that support a manufacturer's MRO strategy helps businesses respond more swiftly and proactively to troubled situations.
The economic outlook looks uneasy. Inflation is here to stay for the remainder of the year, and a potential recession is on the horizon. That's why CPG manufacturers and food and beverage companies need MRO network optimization now more than ever to reduce working capital costs from their bottom lines.
These companies must have a digital transformation to power their operations. Having end-to-end visibility into the supply chain means using data for better business insights, collaborating more effectively with supply chain partners and gaining more accuracy in planning and forecasting.