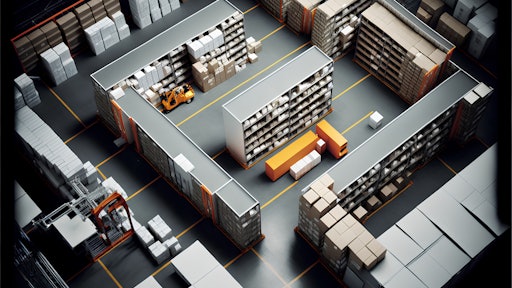 CDL1000
From enhancing visibility, building resiliency and mitigating risk to leveraging smart technologies and automated software, a digital supply chain means different things to different companies.
Yet, digitization itself presents the same benefits across the board in moving temperature-controlled foods in a safe and efficient manner.
Marina Mayer, Editor-in-Chief of Food Logistics and Supply & Demand Chain Executive, talks exclusively with Mike Bush, chief growth officer of CDL 1000, details how when it comes to a digital supply chain, the path to least existence is the path of success.
CLICK HERE to read the article in full.
Food Logistics: What is a digital supply chain? What does it mean for you/the cold food chain?
Mike Bush: Before the pandemic, a "digital supply chain" focused on visibility, identifying where goods were and their condition (i.e., ice cream being stored at the correct temperature). The general idea was to take many manual processes throughout the supply chain, such as logging temperatures in a reefer truck or calling drivers to identify their location and remove some of the friction. Let's call this "Digitization Phase 1."
However, as we've exited the pandemic, the focus is shifting to making the data generated in "Digitization Phase 1" more actionable. For instance, we're able to identify a malfunction in a reefer truck's cooling system in real-time, which can mean;
● Deploying a second vehicle to rescue the goods before they've been stored at the wrong temperature (and saving the value of the goods by avoiding spoilage)
● Sending a repair service to fix the failing reefer unit so the driver doesn't spend a day on the side of the road.
Food Logistics: Describe some technologies and solutions defining the future of digital supply chains.
Bush: The cutting-edge technologies enabling digitization across the supply chain are 20 years old. APIs (Application Programming Interfaces) are the most common way web-based applications and programs speak to each other. In short, an API establishes rules for the types and amounts of information that one program can share with another and how that information is shared.
Though APIs aren't new, their use within the supply chain is still relatively nascent. This is because so many of the core systems used throughout logistics and shipping, including transportation management systems (TMS), warehouse management systems (WMS), and enterprise resource planning (ERP) systems, tend to be legacy in nature. In many cases, today's supply chain leader is trying to connect systems that pre-date The Oregon Trail computer game that Generation X was playing in middle school.
Many of the best-known visibility solutions in supply chain have turbocharged the development of APIs that can support legacy hardware and software, paving the way for a "single pane of glass" (one single view in which supply chain leadership can understand everything happening in one single dashboard). The next phase of a digital supply chain will build on this, connecting to new programs that preemptively implement changes across a supply chain.
Food Logistics: Where to start? How do companies start the journey toward a more digital supply chain? Outline some good first steps.
Bush: It's super easy to get stuck in paralysis by analysis when it comes to digitization efforts. On the one hand, many of the cutting-edge solutions on the market tend to be positioned as solving every issue for every employee. This has a massive challenge in that it assumes most supply chains operate similarly; this faulty assumption creates many of the most significant hurdles in the supply chain.
A second issue interfering with digitization is inertia. Many supply chain leaders, especially the grizzled veterans of the industry, are often accused of subscribing to the "way we've always done it" philosophy, though that might not be entirely fair. Supply chain leaders are forced to trade in exceptions. That is, they usually earn recognition when things go poorly. A willingness to try new things, at the expense of a working process, is often difficult to find. It's more logical to think of this position as "if it ain't broke, don't fix it" vs. a pride of authorship for a potentially slow process.
On the bright side, when it comes to digitization, the path of least resistance is the path of most likely success. Companies should start by identifying a specific issue they want to solve, then trying a solution to the issue, tracking the results, and then adding another issue once the first solution has proven successful.
CLICK HERE to read the "Breaking Down the Digital Supply Chain" article in full.
Food Logistics: What sectors (i.e., agriculture, frozen foods, etc.) are more impacted/affected by digitalization than others and why?
Bush: Every sector could benefit from digitizing its supply chain. The most straightforward approach is identifying the tedious manual processes and then implementing improvements. This means cutting down on errors (sometimes human errors caused by typos, but often something different).
Food Logistics: From food production to the retail and/or foodservice outlet, how does a digital supply chain transform the way food is moved from Point A to Point B? This could also entail fleet, warehousing etc.
Bush: Phase 1 of digitization is "knowing where your stuff is and knowing what condition it is in," and Phase 2 is about making that information actionable.
Phase 3, however, is where the magic will happen, leveraging machine learning and AI in a prescriptive way. For instance, AI can look at inventory across a retailer's entire setup, identify stores where stock-outs are more common (on a SKU by SKU level), and suggest:
● Changes to the volumes of goods ordered overall.
● Changes to the locations (warehouses and distribution centers) where these specific SKUs are housed before being stocked on shelves.
● Route batching that cuts down on the miles a truck has to go to deliver goods, based on when stock-outs are most likely (in other words, product replenishment can move from pallet-based to as needed).
Food Logistics: Describe some other trends and challenges with regards to digital supply chains.
Bush: Fragmentation remains the biggest challenge.
By way of example, 90% of the trucks on the road are part of a small fleet (6 trucks or less). This means there's very little consistency in the way trucking companies operate, with some leveraging one of a few hundred TMS solutions, many relying on spreadsheets and SMS messages, and even more operating without any sort of track and trace.
It gets more complicated as you add in partners in warehousing & distribution, with any number of WMS solutions needing to be tied into an ERP system to update inventories.
APIs will be a critical driver of change, but many legacy systems need to be revised to allow their adoption.
Food Logistics: What are some things not addressed above that may be pertinent to our readers?
Bush: It's OK, and even encouraged, to be optimistic here. In the last 20 years, we've seen tremendous advancements in the digitization of supply chains, with data becoming more actionable today and consumers gaining more access to more choices than at any point in our history. There is work to be done, but when you stop to think about the progress we've made since Thomas Friedman declared The World is Flat, it's simply tremendous.
CLICK HERE to read the article in full.