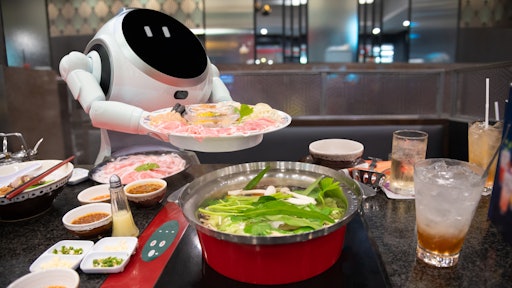 Allied Market Research
The world is driven by automation. From automobiles to food and beverage processing, every sector is on the verge of transformation due to the advent of smart robotics. What makes any robotic assistant so important is its efficiency. Lack of labor and surge in customer orders are irrelevant to robots. Robots are capable of working without taking breaks and without compromising the quality of food. What's more, robots can work in collaboration with humans in the kitchen and help if needed.
With the advancements in cloud-based monitoring and artificial intelligence (AI), robots are getting smarter and more acquainted with a commercial kitchen.
According to Allied Market Research, the global food robotics market is expected to reach $3.61 billion by 2023, growing at a CAGR of 13.0% from 2017-2023. The rise in demand for packaged food, surge in demand for high-speed productivity and increase in production of cost-effective robots are the prime factors of the rapid growth of the market.
Launch of novel food robotics
Several companies have launched computer-controlled robots to gain a foothold in the market. Such innovations make robotics a valid investment. While robots can offer improved efficiency in the kitchen, it can be a good marketing strategy. Restaurant owners now use robotic involvement to gather crowds outside their kitchens because who doesn't want to watch robots do a human's job?
Impact of COVID-19 on food robotics
From farmers to restaurant owners, the Coronavirus disease (COVID-19) pandemic has placed stress on the entire industry. The implementation of social distancing and lack of labor resulted in a shutdown of many restaurants. The pandemic made it clear that manual practices have been bottlenecking the food supply chain, making the involvement of robots essential during such unprecedented times. The COVID-19 pandemic opened doors for automation and robotics. With the involvement of robots, restaurant owners don't have to worry about employees falling sick and complying with government norms. From cooking food to serving customers on plates, robots can take care of everything. During installation, owners have to invest a significant amount. However, there are no further investments or troubles of incentives, sick leaves or monthly salary. Moreover, during the pandemic, the demand for take-out and home delivery skyrocketed. In this case, food robotics played a rather important role to meet customer demand, and will only gain more traction in a post-pandemic environment.
The future of food robotics
Currently, the incorporation of robotics in the food industry is at an early stage. However, over the next two years, expect to witness a boom in delivery robots and kiosks. In addition, over the years, restaurant owners would consider robotic involvement essential, as fully autonomous robotics would completely change the fast food industry. On the other hand, human involvement has some serious downfalls.
The COVID-19 pandemic was particularly hard for the restaurant business in 2020. While the governments issued lockdown regulations and advised six-feet distance at all times, for chefs, maintaining distance is never an option. However, having robots in the kitchen is a win-win solution.
Today, it is difficult to imagine that cloud is running in a kitchen or food is prepared without human intervention. There is no doubt that a fully-automated kitchen is the next big thing. Although high-end restaurants would want human intervention, the fast food joints might turn fully automated. In the near future, collaborative or secondary-processing operations would be handed over to robotics as they can carry out repetitive procedures, reduce the amount of food waste and allow chefs to concentrate more on pressing aspects. The processes such as chopping vegetables, boiling, counting and mixing will be the jobs for robots, which can significantly improve the production process.
Automation and robotics in the kitchen are gaining popularity as their operations offer lucrative opportunities for safety and productivity, making food robotics a must-have in the future.