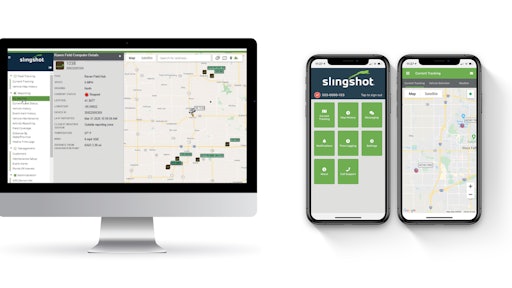 Raven Fleet Tracking
Raven Industries Inc. announced the release of Slingshot Fleet Tracking. Backed by Razor Tracking, the platform allows users to wirelessly track the location and other important information about their trucks, vehicles, trailers, tanks and other moving assets. With this solution, ag retailers and enterprise growers can gain a holistic view of their entire operation — including support vehicles and mobile inventory.
Using Raven technology, any fleet can seamlessly integrate into the Slingshot Fleet Tracking platform. Application equipment connected with a Slingshot Field Hub or Viper 4+ field computer automatically has the tracking information available. There is no need for another cellular connection or data plan.
To track other moving assets, Raven offers two new fleet tracking devices:
The RTB™ battery-powered tracking device provides the last known and current position six times throughout a 24-hour period.
The RTV™ vehicle tracking device provides live position tracking when connected to a vehicle.
The platform is easy to set up and offers a free mobile app, making it accessible to entry-level users. Fleet managers can effectively view data such as location, speed, weather stamping or vehicle performance history from a single source.
"Slingshot Fleet Tracking will give immediate value to Raven's growing ag retailer and grower customer base," said Paul Welbig, Director of Slingshot Services & Logistics for Raven Applied Technology. "The easy-to-use system will help our customers access information about their operation's assets in real-time, all on one platform. With that information, they are better equipped to manage their business and have greater visibility and control."