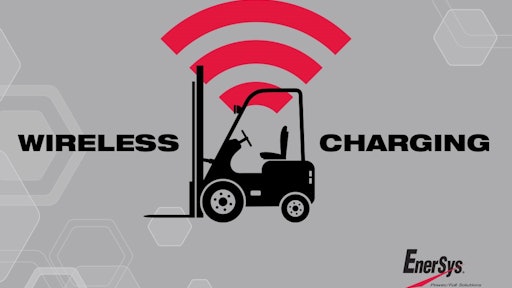 EnerSys
EnerSys will present an improved user experience with virtually maintenance-free NexSys battery solutions.
Manufactured to deliver a "superior power experience" that eliminates the labor requirements often associated with traditional flooded lead acid batteries, the latest generation of NexSys power solutions include NexSys PURE batteries, featuring proprietary Thin Plate Pure Lead (TPPL) technology, and its upcoming NexSys iON batteries, designed with advanced Lithium-ion (Li-ion) technology. 
"We've seen a shift in operations in which warehouse and distribution centers are looking for hybrid solutions that use both Li-ion and lead acid technologies to achieve optimal power performance," says Harold Vanasse, senior director of marketing, Motive Power Americas at EnerSys. "It will all depend on the application and power demand of the vehicle, but both chemistries provide user-friendly ways to cut operating expenses and minimize downtime while maintaining long-lasting productivity. Our virtually maintenance-free NexSys batteries give operators dependable choices that deliver a lower total cost of ownership."
The latest generation of TPPL batteries, NexSys PURE batteries, feature a proprietary carbon additive for higher energy throughput, optimized opportunity charging and an extended cycle life of up to 38%. Ideal for light- to medium-duty applications, the batteries are also equipped with a built-in alarm system to guard against over-discharge, and Wi-iQ battery monitoring device, which provides a continuous wireless data stream that stores battery operating data.
Built with the material handling industry's most advanced Li-ion technology and designed to the highest safety and manufacturing standards, NexSys iON batteries are ideal for heavy-duty applications. They are engineered with large-format prismatic cells and Nickel Manganese Cobalt (NMC) cell chemistry and the control module in each battery features an integrated battery management system that enables communication with the charger and truck for optimum safety and control.
EnerSys will also showcase the innovation behind wireless charging with an on-site demonstration.