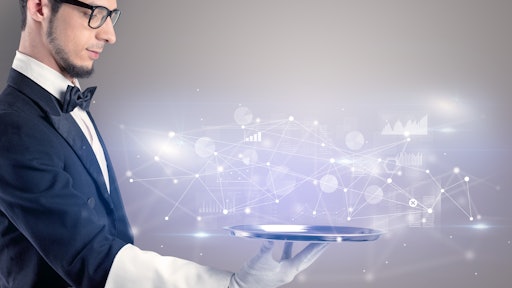 Getty Images
Consumers want to know where their food is coming from more than ever, and companies are starting to embrace it.
By implementing transparency solutions, companies will be able to gain the trust of consumers once again.
The Food Institute recommends that CEOs should consider the implications of what visibility will have on their supply chains as it allows consumers and other stakeholders to engage with food companies about "what they do, how they do it and why they do it."
Gen Z and millennial consumers are more likely to buy from a company that shares the same values as them as well. According to Natural Products Insider, 94 percent of consumers are more likely to be loyal to a brand that offers complete transparency, while 39 percent say they are willing to switch to a brand that is more transparent.
Meanwhile, a survey from ROI found that 78% of consumers trust transparent brands more than those that don't offer visibility into their supply chains. In addition, 86% of millennial moms are more likely to pay more for a product that offers complete transparency.
A survey from Sprout Social found that 85% of respondents said that a company's history of being transparent would make them more likely to give it a second chance after a bad experience, as well. The Food Institute reports that the same survey found that transparency is even more important nowadays because of the impact that social media has had on brands.
Still, transparency is essentially a trust exercise - and if you don't have visibility within your supply chain you are receiving a lack of trust from the consumer. Companies have begun implementing traceability initiatives in order to win over consumers.
Innovative solutions – such as blockchain – make it possible to track and trace the food supply chain from farm to fork. In addition, it also delivers the data that is needed to allow companies to look for process inefficiencies, equipment inefficiencies or other incidents along the way.
IoT and mobile technologies can also provide much needed visibility into the global food supply chain by reducing the possibility for error by automating tasks that were once manual pen and paper processes.
The Center for Food Integrity identified seven elements of clean label culture to help communicate transparency:
1.) Motivation—act in a manner that is ethical and consistent with stakeholder interests.
2.) Disclosure—share all information publicly, both positive and negative.
3.) Stakeholder participation—engage those interested in the brand's activities or impact.
4.) Relevance—share information stakeholders deem relevant.
5.) Clarity—share information that is easily understood and easily obtained.
6.) Credibility—share positive and negative information that supports informed stakeholder decision-making.
7.) Accuracy—share information that is truthful, objective, reliable and complete.
For example, Mastercard is collaborating with Envisible, a company that enables supply-chain visibility in food systems to bring more visibility to food that people eat every day.
The company's Wholechain traceability system will be powered by Mastercard's blockchain-based Provenance Solution and used by Topco Associates, a food cooperative in the U.S., to help its member-owners' supermarkets trace and highlight the origin of seafood. Topco is working with its member grocery chains, starting with Food City, to pilot the use of technology to provide better line of sight into ethical sourcing and environmental compliance of the seafood selection sold at their stores. Salmon, cod and shrimp will be the first to be tracked.
"Given consumers' expectations for reliable information about the food that they eat, we're excited to partner with Food City and Envisible on this trace and provenance solution pilot, and the promise of Envisible's Wholechain solution," says Scott Caro, senior vice president of Fresh, Topco.
However, it is also suggested that CEOs should establish and build brands that are forward-thinking, progressive and innovative. In addition, a finding from Talking Points suggests that executives should innovate more quickly and be willing to take more risks.
Still, there is work to do to get overall transparency within the supply chain. By allowing visibility into the supply chain, shoppers will gain trust in companies and become loyal to them.