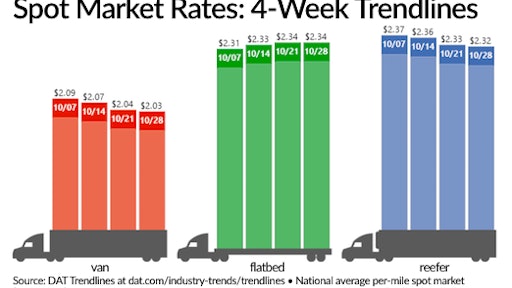 The availability of spot truckload freight dipped 1.8 percent, while the number of trucks posted fell 2.4 percent during the week ending Oct. 28, reported DAT Solutions, which operates the DAT network of load boards.
National average spot van and reefer rates declined for the third week in a row, while the flatbed rate held steady after nearly two months of steady gains. Rates remain elevated for this time of year for all three equipment types:
Van: $2.03/mile, down 1 cent
Flatbed: $2.34/mile, unchanged
Reefer: $2.36/mile, down 1 cent
Spot truckload rates may pick up before Thanksgiving, DAT reports, as retail sales are projected to grow by 6 percent this holiday season, and demand for capacity is solid.
Volumes for the top van markets rebounded 5 percent last week as shippers moved freight out the door before month's end. Nationally, van load posts increased 1 percent, and truck posts declined 3 percent, which caused the van load-to-truck ratio to increase from 5.4 to 5.9 loads per truck. In line with seasonal expectations during October, van load-to-truck ratios have declined since hitting a peak of 7.0 loads per truck during the final week of September.
Several key van lanes showed solid rate gains, including Dallas-Houston ($2.62/mile, up 8 cents) and Atlanta-Lakeland, Florida. ($3.02/mile, up 4 cents).
Flatbed load posts declined 6 percent, and truck posts declined 2 percent, which caused the load-to-truck ratio to slip to 35.9 loads per truck, still a high ratio. After hitting the highest load-to-truck ratio in years during the last week of September—50.2 loads per truck—the flatbed ratio has generally eased off in October.
Reefer load posts held steady and truck posts declined 2 percent compared to the previous week, causing the load-to-truck ratio to increase 1 percent to 9.7 loads per truck. The reefer load-to-truck ratio has fallen after hitting the highest average ratio in years in late September before turning upward again last week.
Rates are derived from DAT RateView, which provides real-time reports on prevailing spot market and contract rates, as well as historical rate and capacity trends. All reported rates include fuel surcharges.