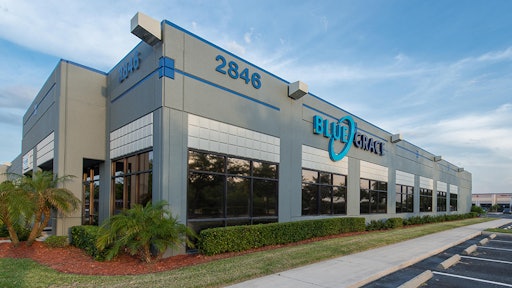 BlueGrace Logistics, a private third-party logistics (3PL) provider based in Tampa, Fla., announced that funds affiliated with Warburg Pincus, a leading global private equity firm focused on growth investing, have agreed to make a minority investment of growth capital and additional funds available for strategic acquisitions. The total commitment by Warburg Pincus is $255 million.
BlueGrace intends to use the funding to fuel the rapid growth of the business, including hiring 500 to 700 new employees, accelerating its national expansion plans and pursuing strategic acquisitions.
BlueGrace is presently building out the remainder of its 55,000 square feet of headquarters space in Riverview, Fla., and is scouting for more space across Tampa Bay. BlueGrace expects to significantly increase employment in Tampa, Chicago, Boston and other markets.
"This investment will give a major shot of adrenalin to our already fast-growing operations," said Bobby Harris, BlueGrace president and chief executive officer. "We're helping customers transform their shipping across the country. And for me, it's especially gratifying to see more and more employees come into the company and find a great career."
Founded in 2009, BlueGrace has developed a proprietary software platform that provides customers who need to ship goods with multiple offers from trucking companies. BlueGrace tracks the shipments, costs, routes and timing, and then provides customers with detailed data about where they can save money. BlueGrace can often save millions of dollars for a client, while providing unprecedented transparency into what's often a major expense for a company – freight.
BlueGrace works with more than 10,000 companies nationwide. Many of the most popular products on shelves at major retailers made their way there through BlueGrace.
"Warburg Pincus has been a long-term investor in the technology-enabled logistics market and BlueGrace is a rapidly growing innovator in that industry," commented Alex Berzofsky, managing director, Warburg Pincus. "We see meaningful opportunities for continued growth for the company and we look forward to supporting the BlueGrace team."
Through Warburg Pincus, BlueGrace received a combination of committed capital and direct investments of $255 million. Hyde Park Capital acted as advisor to BlueGrace in the transaction.