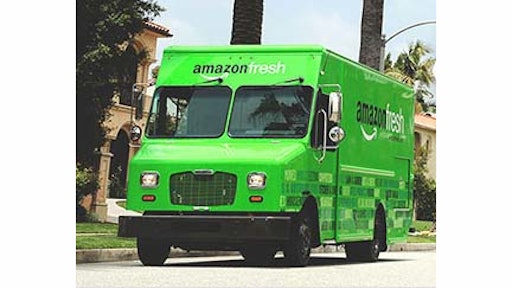 Food is Amazon's next big growth play, according to Investors Daily News.
Amazon controls an estimated 1.1 percent of the $795 billion food and beverage business through various Prime offerings, including Pantry and its fresh-grocery delivery service, Fresh. Wal-Mart, including Sam's Club, leads with 21 percent, according to a March analysis from Cowen analysts John Blackledge and Oliver Chen. Kroger's 9 percent market share puts it at a distant second, and Albertson's/Safeway, Costco and Publix round out the top five with low- to mid-single-digit shares apiece.
But when it comes to online grocery sales, Amazon is already No. 1, bagging a 22 percent share in 2015 vs. Wal-Mart's 13 percent.
First tested in Seattle almost a decade ago, AmazonFresh has quietly popped up since then in about a dozen cities along the coasts. They include Los Angeles, Philadelphia, San Francisco, Baltimore and New York.
A new offensive has brought Fresh back into public focus. The service recently launched in Boston and across the pond in London.
An Amazon spokesperson said the company does not comment on its product roadmap.
"We're branching out as fast as we can while being careful not to sacrifice the quality and convenience our customers expect from AmazonFresh," says Amazon's help page.
To read more, click here.