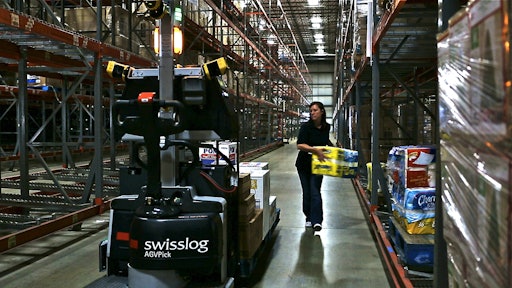 The expansion of goods-to-person picking in food and beverage (f&b) supply chain operations portends a bigger role for automated material handling systems, including more complex systems such as robots, according to an article in the August Food Logistics. Robots, specifically defined as machines that resemble humans and perform tasks on command, remain rare in f&b facilities in the U.S. But technology solutions continue to evolve, hastening robotic deployments.
Today's robots are more precise in their movements and are directed by more robust software, allowing them to do more complex tasks. More robots carry sensors and cameras that enable them to automate more processes. The "collaborative" robots that have emerged in recent years can work safely in the same environment as humans, creating even more opportunities to utilize time-saving and safety-enhancing robots. In addition, robots are becoming more affordable.
The newest robots can meet the rising demand for logistics technology. These solutions include truck loading, unloading and mixed-case depalletizing. Robots help improve the operational effectiveness of warehouses and distribution centers by:
Reducing injuries to workers
Reducing product damage
Reducing loss due to theft
While robots are still rare in f&b operations, the market continues to expand and observers believe f&b applications will be part of this growing market.
Winter Green Research, based in Lexington, Mass., recently reported the global industrial logistics robotics market has increasingly diversified and is poised grow in every industry. The report specifically notes that logistics robots improve efficiency in food production.
To read the entire article, click HERE.