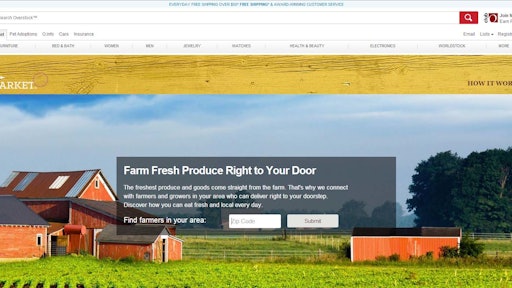 Overstock.com Inc. has launched home delivery for Farmers Market within the Overstock.com website. This market of hand-picked products offers customers throughout the U.S. access to home delivery of seasonal, healthy food, grown and produced in their area.
"We're integrating small farms, community-supported agriculture and co-ops into our technology so as to allow consumers in their area to buy and arrange delivery through Overstock," said Overstock CEO Patrick M. Byrne. "We want to streamline the farm-to-table process to provide everyone access to healthy food, delivered to their doorstep."
The home delivery function comes in addition to the nationwide drop ship capability that has been available for a year from Farmers Market, says Shelly Olsen, general manager at Farmers Market.
In the second quarter, customers will be able to sign up for a subscription service in addition to the single orders they can now place, Olsen says.
Farmers Market local delivery is currently available to about 35 percent of the U.S., Olsen says.
Most farms participating in the Fresh Market network provide their own delivery. Drop ship orders are completed by couriers such as UPS and FedEx.
Each product featured in the Farmers Market is accompanied by a biography of the farmer or specialty food purveyor who grew it, along with a look into their production processes, in order to give customers a better idea of the food they are purchasing.
Customers can pay for purchases on the Overstock website with credit card, with the Overstock credit card and with bitcoin.
The Farmers Market program requires no upfront costs for suppliers to join, instead using a revenue-sharing model that allows them to get their products on Overstock with minimal changes to their existing procedures. Farmers, community supported agriculture co-ops and co-ops interested in joining the program are encouraged to contact the Farmers Market team at farmersmarket@overstock.com for more information.
The Farmers Market is the latest initiative in Overstock's collection of sustainable businesses that provides a way to give back to communities worldwide. Other community-focused initiatives include Worldstock.com, Overstock's fair trade division selling products handmade by artisans all over the world, Main Street Revolution, which features products made in America by individuals and small businesses, and the company's on-site Pet Adoption feature, which allows animal shelters across the country the chance to use Overstock's shopping site as a free service to connect consumers to adoptable pets.