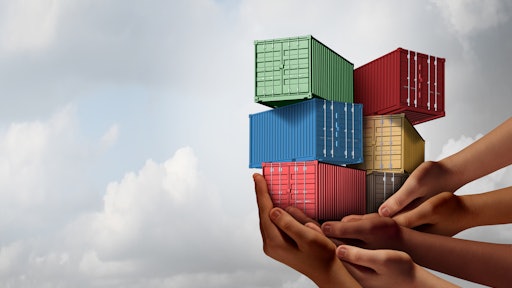 freshidea AdobeStock_142658862
This week kicks off Manifest 2023, Las Vegas.
Supply chain disruptions, current events, enterprise-wide solutions and supply chain pain points remain the main focus of thought leadership. In fact, this show will accentuate the partnerships and futuristic technologies transforming supply chains and logistics operations globally. Thought leaders will be discussing everything from sustainable supply chains and the implementation of 5G networks to micro-fulfillment, visibility, e-commerce and more.
And, the Food Logistics and Supply & Demand Chain Executive team will be in full force ready to meet, greet and learn more.
On Feb. 2 is the Women's Lunch, sponsored by Food Logistics and Supply & Demand Chain Executive. Here, Courtney Muller, president of Manifest, will sit down with Katie Dade, MIT's leader of the Women in Supply Chain Initiative, and Alicemarie Geoffrion, president of packaging at DHL and a past recipient of Supply & Demand Chain Executive's Women in Supply Chain award, to discuss the importance of women in the supply chain, gender balance in the corporate world and more.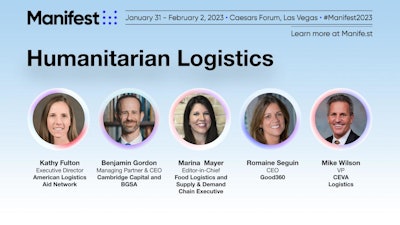 Also on Feb. 2, at 2-2:30 p.m., check out the panel discussion on Humanitarian Logistics where editor-in-chief Marina Mayer will sit down with Benjamin Gordon, managing partner and CEO, Cambridge Capital and BGSA; Romaine Seguin, CEO, Good360; Mike Wilson, VP, CEVA Logistics; and Kathy Fulton, executive director, American Logistics Aid Network (ALAN), to talk about the state of procurement, how to support humanitarian logistical needs and more.
And, be sure to check out the winners from this year's Top Tech Startup award, as many will be exhibiting, attending and walking the halls.
Sprinkled in between will be coffee with clients, networking receptions, meetings with new and current readers, discussions around upcoming awards and more.
Look for Food Logistics and Supply & Demand Chain Executive's staff walking the show floor.