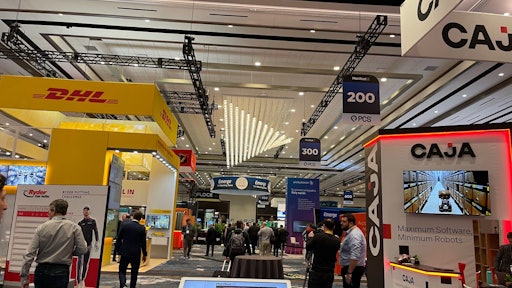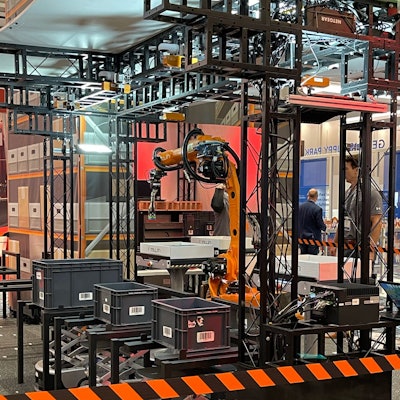 The saying is true: you go big in Vegas or you go home. Manifest 2023 was big in all the ways you could think. With over 3,000 attendees, 1,000+ vendors and 350 speakers, the event was jam packed with plenty to take in. When I walked onto the show floor the robots caught my eye first and lead me down winding paths to some of the greatest tech happening in the supply chain space right now. I watched DHL and Boston Dynamics robots put to work, stopped to pet puppies at GEODIS' puppy lounge and sat in a fully autonomous vehicle by Cruise that made me slightly nervous at the sight of no steering wheel— and that was just the first half of day 1.
Alongside the booths was a stellar line up of speakers bringing light to heavy hitting topics about the critical role of technology going forward, how the customer journey has continued to evolve, how supply chains handle humanitarian efforts in times of crisis and much more. Sarah Barnes-Humphrey, founder and host of Let's Talk Supply Chain, sat down with Patrick Kelleher, global chief development officer at DHL Supply Chain, to talk through innovation in today's climate— which we all known has gone zero to one hundred to overcome hurdles in the last few years — and Kelleher says specifically for 3PLs, the evolution to move towards more technology in supply chain has been in an effort to improve sustainability, the job market and the overall economy, to name a few. He explained the move to robotics as a service is still connecting people in these workspaces but now in conjunction with tech solutions because, at the end of the day, "people are the background that make these innovations successful".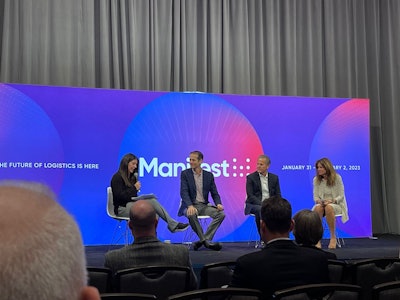 Our own Marina Mayer, editor-in-chief at Food Logistics and Supply & Demand Chain Executive, moderated a panel with Benjamin Gordon, managing partner and CEO at Cambridge Capital and BGSA, Romaine Seguin, CEO at Good360, and Mike Wilson, vice president at CEVA Logistics, who talked all things humanitarian logistics. In the wake of so many disruptions, from pandemics to socioeconomic crisis, these leaders who operate in logistics spaces answering calls for aid agreed that a bias for action is pertinent now more than ever.
Gordon professed the need to bring business mindsets to the nonprofit sector through partnerships that work just as that, partners, in collaboration to push necessary goods when they can, and where they're needed most. "When you're able to do good in supply chain, you feel good," says Wilson, and a major way forward is the repurposing of products as the first step and then thinking up ways to provide them to the location through that collaboration element that brings helpful parties together for a common goal.
As a topic near to my heart, and as sponsors of the segment, the women's lunch at Manifest was by far one of the highlights of my time spent. Courtney Muller, president at Manifest, gave insight into how women can claim their spot in the industry by speaking up, finding mentors and being your authentic self. Katie Date, leader of MIT Women in Supply Chain Initiative at MIT Center for Transportation & Logistics, explained the difference between mentorship and sponsorship, and how those relationships can create a network for women to lean on as they find their footing in the supply chain— made up of women AND men.
Alicemarie Geoffrion, president of packaging at DHL, touched on work-life balance, how it may differ for women who are also in the thick of motherhood, and the importance of being aware that everyone has a story and background that looks different from yours, and that's a wonderful thing. In addition to these inspirational talks, we heard plenty of testimony from men and women in the audience that gave their experiences as women in male dominated spaces, advice on what helped them and shaped those experiences, and how many men are able to build up their female counterparts through understanding and great communication above all else.
The close of Manifest brought even more sights and sounds. I watched as Mujin and Geek+ robots sorted and packed orders for total fulfillment automation, checked out electric delivery trucks and their many configurations, and of course, saw more puppies. We even closed out the event with a great performance by Nelly and my smart badge tracked 30+ connections made in total. The innovations on display kicked off what I can only imagine will be a year of continued improvement in the supply chain at the hands of amazing technology, all powered by incredible thought leaders, some of whom I met in the flesh, and can't wait to see again when we head back to the floor in 2024.