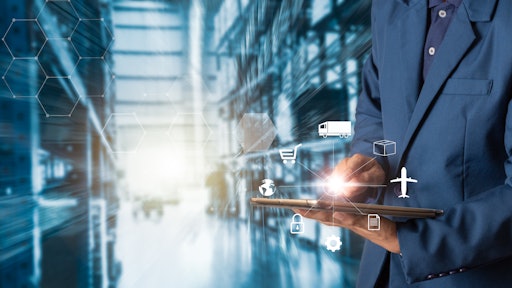 Getty Images
The supply chain disruptions and relentless aftershocks experienced by the food industry over the past three years has accelerated digital transformation by producers, suppliers, distributors and retailers. Leading-edge companies are working to move data and metrics relevant to their unique operations from legacy systems and manual processes to digitally enabled platforms. But for every brand/SKU/channel/retailer/point-of-sale combination, there can be as many as 30 businesses and 200 unique interactions in the route from field to shelf. Data silos abound, both within and between supply chain participants.
Enhanced data sharing is mission critical to realize the full benefit of digital transformation: a food industry that is highly collaborative, agile, and resilient; where supply meets demand and everything from replenishment to distribution to marketing operates at speed and scale. All players are more successful, the supply chain performs better as a whole and brands and retailers achieve their common goal: delighting consumers.
Superior data collaboration powers key drivers of supply chain resilience, agility and competitive advantage.
Single source of truth with a 360-degree view. It's not a lack of data that hinders effective collaboration; it's the struggle to navigate increasingly complex, granular, disparate data sets and make them actionable. By 2025, Ocient predicts the total volume of data will exceed 200 billion terabytes. Within companies, data resides in multiple locations, spreadsheets, databases, and legacy systems. Finding and corralling all of it into one place is a monumental task. At the same time, no individual supply chain participant has all the data it needs to make timely, holistic decisions. The vast majority of data needed for actionable insights resides outside the four walls of any single company. When each partner in the supply chain is working in their own disparate systems of record, it is extremely difficult for everyone in the network to align on data sets, have confidence in analysis and interpretation, pinpoint failures and opportunities or take action.
Connecting data sets within and between food suppliers, distributors, logistics companies and retailers in a secure, privacy-safe way enables access to a single set of data regardless of source, format, velocity or volume. It provides the fuel for the advanced analytic capabilities of artificial intelligence (AI) and machine learning (ML). AI accelerates the data-driven detection of problems and delivers actionable insights by ingesting and analyzing massive volumes of data at lightning speed. It paints a 360-degree picture of the consumer and of the supply chain ecosystem. And it supports inexpensive experiments that mimic real-world conditions to quickly assess the outcome of potential scenarios, helping businesses stay nimble and chart a better course without wasting time and money.
Superior demand sensing. Changes in consumer behavior and demand are moving faster and becoming harder to predict. Forecast algorithms based on historical patterns are irrelevant. Real-time understanding and access to shopper profiles, the interaction between online and instore shopping behavior, social sentiment, shopper satisfaction, loyalty card insights, weather forecasts, crop yields, natural disaster implications, urban planning, employer work location policies (home, office, hybrid), economic trends, civil unrest and more is essential to anticipating and planning for future purchase and consumption. Data exists for all these factors, primarily from external sources. Combining, interpreting, and deploying it for the benefit of all upstream and downstream activities will help ensure consumers can buy what, where, and how they want.
Inventory visibility. Visibility is the foundation for agility, enabling companies to react quickly and confidently to shifting market dynamics. Real-time line-of-sight into inventory status, from input to finished product, manufacturing floor to warehouse, on-the-the truck to on-the-shelf and everywhere in between is critical to shopper satisfaction and loyalty, not to mention operational efficiency and waste reduction. Holistic, omnichannel planning and agile execution is enabled as silos crumble between ecommerce and store operations teams from both sides of the desk. Better data collaboration grounded in a comprehensive single source of truth helps retailers and brands understand demand by item and store/digital shelf, eliminate out-of-stocks and prevent waste due to overstocks. Marketing campaigns can be finely tuned and programmatically delivered by location to support strategic brand objectives, move excess or short-code inventory or turned off completely if product is out-of-stock.
Assortment optimization. Finding the assortment sweet spot that optimizes shopper satisfaction, loyalty, and profitable growth is a top priority for both brands and retailers. Hyper-localized, precision assortments supported by strategically designed planograms (both physical and digital) are increasingly important. Curating the right assortment requires understanding each consumer segment, the relationship they have with each category and their shopping behavior. Connected data sets power algorithms that run item level analysis to identify true item duplication, assess transferable demand, calculate incremental revenue opportunity, run store-level scenarios and make quantified recommendations at the most granular level with accuracy and speed. Advanced analytics do the heavy lifting of number crunching, freeing up retailer and consumer packaged goods (CPG) teams to collaborate dynamically and rapidly on strategic alternatives. Assortment reviews and plan-o-gram resets become a series of agile, dynamic refinements instead of episodic events. Shopping is easier for consumers without negatively impacting the perception of choice. Suppliers and retailers have fewer items to manage, forecast accuracy improves and supply chain efficiency is enhanced.
Price optimization. Faced with the highest inflation in a generation, retailers and brands are struggling to keep pricing strategies in sync with shopper needs and their own margin requirements. Data-driven collaboration, grounded in comprehensive data sets and advanced analytics, allows retailer and brand teams to surgically implement price adjustments that drive strong sales results without sacrificing price image or overall margin. Prices can be tailored to each item, channel and market in a way that engages consumers while safely recovering margins elsewhere in the assortment. Research by Revionics found that this type of precision revenue management delivers as much as 2-4% profit lift versus traditional approaches.
Talent retention. Enhanced data sharing and data-driven collaboration allows employees across the organization to focus on higher value activities by removing error-prone extract-transform-load processes, data reconciliation and spreadsheet manipulation. Workflows across and between organizations are simplified and more connected. Communication improves, as true collaboration is not just sharing or giving access to data, but actively engaging in ideation and discussion of options, implications and next steps.
Getting started
Cost-effective and easy to set up, cloud solutions provide the infrastructure, computing power and scalable capacity necessary for the data connectivity, advanced analytics and user-friendly interfaces required for high-impact data collaboration. Data from disparate sources and in different structures can be securely piped, normalized, de-duplicated, and stored in a central repository. Layer in artificial intelligence and machine learning for advanced analytics. Use data visualization tools to create self-service interfaces and dashboards accessible by all supplier, CPG and retailer teams. The result: a platform for transparency and cross-functional data collaboration fueled by comprehensive, ready-to-use, reliable data that informs action and drives profitability.
Everybody wins in the scenario of better data collaboration. Retailers get more sales and happier shoppers. Brands get shopper intelligence, less waste, better market penetration and stronger loyalty. Both can manage logistics more effectively, decreasing costs that get passed on to shoppers and delivering the best consumer experience. And shoppers get the products they want, when, where and how they want them.