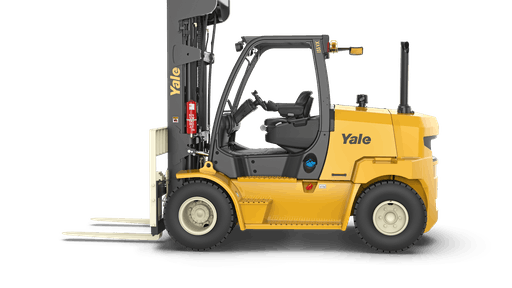 Yale
Inflationary pressures and rising costs are a top concern across the food and beverage supply chain, especially in warehouses as businesses look to protect margins. With tight order fulfillment deadlines and long hours pushing personnel and processes to their limit, operations need advanced solutions to get the most out of their equipment and employees. And with inflation reaching a 40-year high of 9.1% in June, keeping costs under control is especially important.
Many operations are turning to technology to gather and use data for greater efficiency, whether improving productivity or optimizing equipment fleets. According to the 2022 MHI Annual Industry Report, adoption of internet of things, wearable and mobile technology, predictive analytics, and inventory and network optimization tools is expected to rise significantly, reaching or eclipsing 75% in the next five years.
Telemetry and lift truck operator assist systems (OAS) are examples of those types of technologies. Warehouse managers can capture data about lift truck usage with telemetry tools to monitor operations and make informed decisions in the future and enable real-time performance adjustments and amplified sensing capabilities with an OAS package. These solutions aim to boost efficiency, help bolster operators' situational awareness and adherence to best practices and reduce costly damage to products, equipment and the facility – ultimately saving money.
Understand the difference between OAS and telemetry
Before digging into details, it's important to define each solution and how they differ. OAS is an umbrella term that encompasses a variety of products and technologies designed to do exactly what the name suggests – assist operators. It includes telemetry and other features like pedestrian awareness lights and alarms, and more recent advancements like automatic performance adjustments to proactively help operators adhere to best practices that support safety and efficiency.
Telemetry systems capture and report lift truck status and usage, providing data to inform fleet management, equipment maintenance and operator behavior management, all with a reactive approach. The automatic performance adjustments referenced above are a key differentiator for newer operator assist solutions. These are the first systems to implement automatic performance adjustments in real-time, rather than gathering data for managers to review after the fact.
Optimize warehouse spending and maintenance with telemetry
One way for food supply chains to get costs under control is to right-size their lift truck fleet. For cold storage environments in which costs and other challenges are magnified compared to ambient environments this process can be especially valuable. Telemetry can provide a data-driven picture that enables managers to eliminate the cost of running excess trucks. By examining lift truck utilization time, it becomes clear which equipment types are used the most and the least. If the data shows that some equipment is collecting dust, it might be best to move those trucks to another location that can better utilize their capabilities or replace them.
Here's an example of that process in action:
A food distributor began the fleet optimization process to reduce operating costs while maintaining flexibility to accommodate seasonal spikes and future growth. Based on current and future truck applications, labor resources and demand, distribution center staff identified fleet requirements and instituted a telemetry system from their local dealer to provide data-driven views into fleet utilization and productivity.
Over time, facility staff identified areas with idle trucks, found opportunities to reduce fleet size through process improvements and identified specific order selector models well- suited to picking processes. By cutting excess trucks, instituting more efficient processes and adopting trucks tailored to fulfillment applications, the company reduced fleet size by 10%.
While a lean truck fleet eliminates idle time and reduces cost, it leaves businesses with a low tolerance for downtime. Telemetry features include equipment summaries that show forklift performance and health metrics to alert operations of issues before they bring equipment to a halt. These systems are complete with sensors that trigger alerts if something reaches a critical level or hazardous operating behavior is noticed, such as excessive speed or impacts. Dashboards can also include planned maintenance information to keep track of maintenance days and know which forklifts are available and which are not.
To keep maintenance costs in check, telemetry systems can enable leaner service schedules. With critical maintenance data accessible and analytics to help refine periodic maintenance schedules so that operations only pay for service that is necessary, enabling sufficient support without overspending.
Having access to this kind of data allows organizations to isolate and work on remediating problem areas and reinforce best practices to protect their fleet, product and bottom line. In practice, a telemetry system can:
· Trigger service calls based on equipment diagnostics
· Restrict truck access to approved operators only
· Require OSHA pre-shift checklist completion before truck operation
· Identify efficient routes via GPS monitoring to influence facility layout and traffic patterns
Go beyond standard telemetry tools with OAS
Collecting telemetry data to make informed decisions down the line is valuable, but being able to make real-time performance adjustments is a game changer. Advanced OAS brings together different technologies for promoting operator situational awareness and adherence to best practices, issuing dynamic alerts and initiating lift truck performance reduction based on facility-specific rules, while leaving the operator in ultimate control of the equipment.
Of course, not all OAS offerings offer the same functionality. Certain offerings may have a unique combination of sensing technologies and performance reduction functionality, which the system uses to provide a range of capabilities based on the established traffic rules and the operating environment in real time. For example, some packages may use lidar-based technology to detect obstacles in the path of travel. Proximity detection can be offered through tags on equipment, pedestrians and infrastructure to provide truck-to-truck, truck-to-pedestrian and truck-to-beacon detection. Those tags can also work together with anchors placed around the facility that form a mesh network to enable real-time location sensing of equipment and pedestrians. Information from lidar, proximity detection and real-time location sensing can come together with equipment-level sensors and inputs to trigger performance adjustments to travel speed, acceleration and hydraulic functions and in a way that does not upset truck stability.
OAS functionalities to look for:
· End of aisle slow down enables performance reductions to equipment as the operator reaches the end of an aisle
· Line of sight support proactively promotes operator awareness of objects and pedestrians that are not within their direct line of sight (blind spots) by adjusting lift truck performance to provide operators with additional time to react
· Lateral stability enables automatic speed reduction based on the combined center of gravity of the truck and load when cornering for increased stability
· Anti-tailgating keeps lift trucks at a proper following distance while maneuvering
· Fork height awareness: Location-based fork height restriction to avoid low-hanging beams or other obstacles
Take it to the next level
Many businesses are aware of the new and existing technologies available but less than half of warehouses have adopted and fully implemented innovations like telemetry and OAS. This technology offers real opportunity to operations leaders who want to take control and drive positive earnings results that in the past were dollars lost and accounted for after-the-fact. The advanced innovations available to warehouses continue to evolve and become more accessible. So, it's not a matter of if your business will implement telemetry, OAS or another advanced technology, but when.