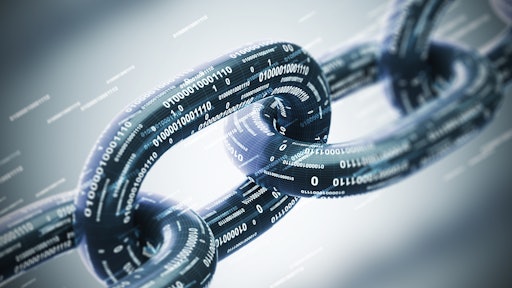 Getty Images
Food and beverage manufacturers have long struggled with the unique requirements of shelf-life management, complexities of batch scheduling, traceability and many other factors. In addition, uncertainties around the lasting impact of the Coronavirus disease (COVID-19), as well as tariffs, sustainability initiatives and growing regulations are some of the dynamics that will surely add even more complexity to the mix. Many of these issues and trends can have profound impact on entire supply chains – from procurement to manufacturing to delivery.
When looking to build a better foundation to address the challenges facing today's food and beverage companies, there are several technologies and solutions to consider. One technology currently making waves in the industry is blockchain. Companies today are leveraging blockchain to track and trace products more efficiently and effectively throughout the supply chain. On the consumer side, blockchain is also presenting a new way for the public to track their food's "journey" from farm to fork.
While blockchain is poised to deliver new and innovative benefits to both businesses and consumers, it's important to understand blockchain is not a silver bullet on its own. The functionality, when coupled with modern enterprise resource planning (ERP) solutions and cloud-based, multi-enterprise business networks, can greatly benefit food and beverage manufacturers in their efforts to ensure the quality, safety and shelf-life of ingredients and products delivered to consumers.
Taking blockchain a step further
From the manufacturer's standpoint, it has never been more important to share and track information from suppliers and farms, as well as provide important sustainability and food origin data to retailers and consumers.
Today, blockchain technology is helping address this critical need. Blockchain ensures data cannot be manipulated once it is entered into a central or distributed ledger. For food and beverage organizations, this capability is important to providing reliable, unalterable food origin information to retailers and consumers. For example, data entered into a blockchain ledger can eliminate the possibility of a non-organic ingredient later being reported in an organic product. This situation occurs when, further upstream in the supply chain, the data of a batch is maliciously manipulated. This is not hypothetical; for instance, with horse meat sold as beef.
Here's where we take blockchain technology a step further. Multi-enterprise business networks and modern ERP solutions provide the dynamic multi-party interaction capabilities needed for food and beverage organizations to derive value from data and run day-to-day business operations. These capabilities include cross-enterprise planning, multi-party execution and automatic and collaborative resolution of predicted issues in the extended supply chain.
Modern ERP solutions and multi-enterprise business networks are critical to ensure the right information is entered into the blockchain in the first place. Furthermore, ERP solutions and multi-enterprise business networks ensure data housed in the blockchain can provide cross-functional value across an organization's supply chain. It is important to note that blockchain, ERP solutions and multi-enterprise business networks do not compete with one another. Instead, all technologies and solutions are complimentary, helping food and beverage organizations streamline business operations and deliver exceptional products to their customers and end-consumers.
Blockchain's next evolution in food and beverage
With businesses leveraging blockchain to increase supply chain transparency, utilization of the technology will continue to grow and be onboarded by companies seeking a secure pathway to track and trace supply chain information. In the food and beverage industry, blockchain continues to grow in importance for foods where food safety is vital, such as meat and fish.
Now that a growing number of countries are translating the targets for greenhouse gas emission reductions into regulations, another even more pressing use case is becoming apparent for blockchain. Global organizations and entities are now becoming involved with how the technology moves forward. With large organizations maintaining the majority of blockchain usage, these enterprises are currently setting the standard around which data elements should be included in the blockchain.
A path forward
It is clear blockchain technology provides an important way for organizations to secure the integrity of information. However, for organizations to realize the most value from the technology within their supply chain, coupling the technology with modern ERP solutions and network-based cloud platforms can provide a holistic way for organizations to act upon information housed in the blockchain.
For food and beverage organizations specifically, this holistic approach provides a critical pathway to improving food safety, creating a more transparent food supply chain, protecting their brands, and above all, minimizing waste to further today's and tomorrow's sustainability initiatives.