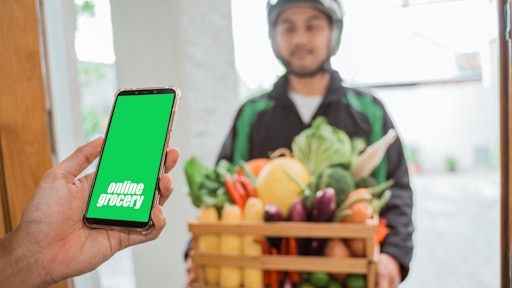 AdobeStock_346469883
One of the lasting impacts of the pandemic has been the explosive growth in meal delivery and e-commerce usage. As a result, policies and infrastructure are having to play catch up in order to better facilitate this.
For example, Colorado recently proposed a bill that requires third-party meal delivery services to sign agreements with the restaurants they partner with. This bill hopes to help restaurants deal directly with their patrons, ensuring they get the best quality meal delivery experience.
However, a far less reported consequence of this new consumer demand is the impact it's had on the security and safety of residents living in multi-family apartment buildings. Most multi-family buildings were not designed to manage the constant comings-and-goings of deliveries. The problems this has caused include overcrowded lobbies, robberies and theft, all of which have led to complaints from residents.
On top of this, contactless deliveries have become the norm, but this is hard to achieve when entering and exiting numerous doors within an apartment building.
This is leading many multi-family operators to look toward technological solutions to solve these problems, which are all interconnected via the Internet of Things (IoT).
Security challenges
With a near-constant flow of delivery drivers entering the premises and expensive deliveries inundating mail rooms, many multi-family building managers are struggling to provide the level of security that residents expect.
Allowing delivery riders access to buildings and internal hallways creates a clear security risk. This multiples with the fact the increase in parcel deliveries has led to more items being left unattended outside apartment doors during the day.
Beyond security, biosafety risks are also high. Contactless deliveries are simply not possible if riders are having to touch surfaces as they enter and exit buildings. And, with the rise of new Coronavirus disease (COVID-19) variants, biosecurity measures are still an imperative for all apartment buildings.
Many building managers have instigated policies such as drop off zones in building lobbies. But, in a classic case of the law of unintended consequences, this has created further issues with meals getting misplaced or going missing, and lobbies getting completely overcrowded during meal time peaks.
Beyond security and safety risks, this shift in consumer demand has hidden costs for multi-family building operators. It's estimated that the average worker now spends four hours a week simply receiving packages. These hidden operational costs hinder workflows and squeeze margins.
Delivery pods
In the meal delivery space, there is huge potential for IoT technology to help mitigate these increased risks. One of the major new developments is the implementation of meal delivery pods in multi-family units. Package delivery lockers have existed for a while to help manage parcel deliveries, but these installations can't manage meal deliveries, which needs to be kept at a specific temperature until collected.
Meal delivery pods allow residents to pick up their food at their own convenience while enabling riders to perform contactless deliveries at building entrances with ease. These lockers are equipped with IoT sensors that detect when food is deposited or retrieved, meaning that only the intended recipient will have access to the food.
Additionally, these storage pods have built-in temperature controls, meaning that residents don't have to rush home before their pizza goes cold. It also gives building managers the ability to keep better track of who is coming and going within the complex and reduces the amount of clutter in the lobby area.
Access control
Old fashioned buzzer systems are a one-size-fits-all approach that are no longer fit for purpose with today's complex building access needs. Smart IoT access control systems can assign permission levels to delivery personnel and other guests.
For example, permissions can be programmed that only permits delivery personnel with access to a building's lobby. Or, if your building permits to-the-door-deliveries, then controls can be programmed that only allow access to the relevant floor and corridor.
As well as access controls, advanced IoT security systems can also provide useful analytics to facility managers. This includes flagging incidences of tailgating by delivery riders, and highlighting periods and areas of peak congestion. Insights such as these can then be used to create targeted policies that reduce these risks.
Making strategic investments now to retrofit IoT-enabled services in multi-family buildings will help improve the resident experience and create a safer and more secure environment.